11 Comparisons Between The Hit TV Shows 'Insecure' and 'Girlfriends'
"My giiiiiiirlfriends..."
October 16, 2017 at 2:40 am
The Insecure season two finale has come and gone, and I'm having withdrawals. Like many of us, I'm anxiously waiting for season three.
Since I have to wait until next year, I decided to find a show that was similar to Insecure to binge watch.
To help narrow down my options, I decided on three requirements:
1. It had to include black women
2. It focuses on the black narrative
3. It had to have a realistic story line
Based on those requirements, I decided to watch Girlfriends, starring actresses Tracee Ellis Ross as Joan, Jill Marie Jones as Toni, Golden Brooks as Maya and Persia White as Lynn.
I thought this was a good choice because I remember growing up watching Girlfriends in the early 2000s. During that time, I wasn't able to relate to the issues that were addressed in the show, such as relationships, female sexuality and living as an educated black woman in America. Honestly, I just thought it was great to see beautiful women that looked like me on television.
It wasn't until recently, now in my early 20s, that I began to understand the black female narrative with shows like Insecure. That understanding made me appreciate earlier black shows that paved the way, like Girlfriends.
While watching Girlfriends, I couldn't help but point out the similarities between the show and Insecure. Some similarities included character's personalities and their friendships.
Below are 11 similarities between the two shows.
1. Best Friends: Molly and Issa/Toni and Joan
Best friends are there for you when you are happy, sad and in times of distress. In both shows you can clearly see the realities of how best friend relationships function. In Insecure, Molly and Issa had a fall out at the end of season one. Keeping it real with each other about their own messy situations eventually caused them to confront their personal insecurities. Some best friends can relate to these type of arguments. The same happened to Joan and Toni in season two of Girlfriends. Joan felt that Toni was selfish and didn't take her career as seriously as she should've, which led them to take a break from their friendship. But at the end of their arguments, both sets of friends made up. The shows portrayed how important best friends are when you're at your lowest point in life or when you have no one else to lean on.
2. Infidelity: Issa and Maya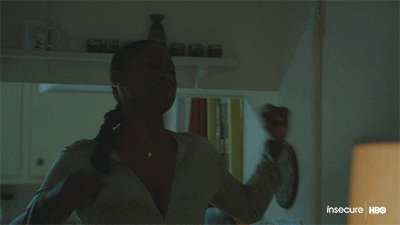 Issa wasn't the only woman to cheat on her significant other in a TV show. Let's not forget Maya cheating on her husband, Darnell, in Girlfriends. It's interesting how society thinks it's uncommon for women to cheat on men, but it's good to know that both shows portrayed this scenario. Both Maya and Issa weren't satisfied in their relationships, so they entertained men who fulfilled what they were missing. Lawrence wasn't supporting Issa and Darnell didn't support Maya going back to school. I'm not justifying both women cheating, but it revealed how their actions showed signs of them figuring out what makes them happy and how they needed to focus on their personal growth.
3. Black women at work: Molly and Joan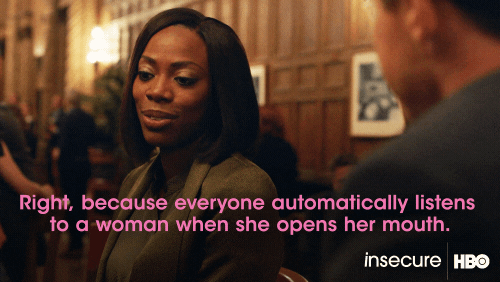 Molly and Joan were lawyers at top notch law firms in Los Angeles. Being one of the few black women in the workplace, both characters dealt with the the realities of working in a white-male dominated office. In Girlfriends, Joan had to deal with a misogynistic boss. She also struggled with being promoted and taken seriously at work. Molly also dealt with the same issues. In season two, she was not paid the same amount as her white colleague and she didn't receive a promotion, even though she was one of the best lawyers at the firm. These are some of the common issues black women deal with everyday in the workplace.
4. Tracee and Issa's personalities
What's not to love about both Tracee and Issa? They're the awkward, amazing friends that every girl group needs. It's even more awesome to see them both put their own personalities into their characters. Both Joan and Issa portray the awkward side of a black girl that's not commonly seen in TV shows, but thanks to them, black girls are not ashamed to show that side of themselves anymore. Even Issa herself said that she saw black women with personalities similar to herself early on in television, and one of them included Joan. It makes sense because we all think that Tracee and Issa are our best friends in our heads.
5. Lynn and Kelli being the friends that every girl group needs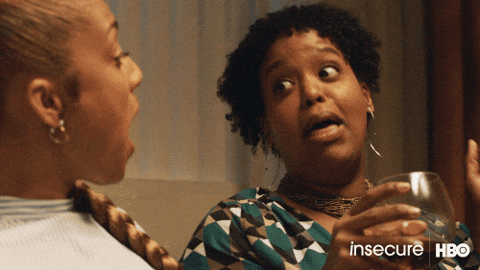 Kelli and Lynn are the friends that you need to lighten up any serious situation. Their carefree, nonchalant, liberating personality is what makes them so much fun to be around. Whenever there are any issues in the group, or you just need that one friend that's down for whatever, these are your go-to girls. Also, their comedy is one of a kind.
6. Therapy: Joan/Molly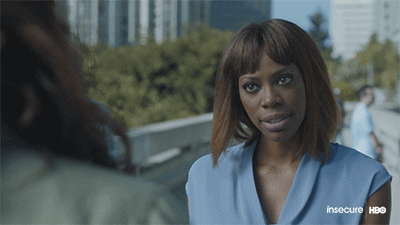 In the earlier seasons of Girlfriends, Joan was going to therapy to help cope with her stress and relationship with Toni. Toni eventually took classes with her as well. There's always a stigma around black people going to therapy, and it was good to see Girlfriends portray the importance of therapy earlier on in the new millennium. It was also good to see that reflected in season one of Insecure with Molly. It doesn't hurt to go talk to someone to help you with your issues. It's more helpful than what you think.
7. Yvonne Orji and Jill Marie Jones' resemblance
I know I wasn't the only one who thought Jill Marie Jones had a twin or a little sister. Once I saw Orji on Insecure, I thought my eyes were playing tricks on me. It's very clear that both women look very much alike. It was almost to the point where I saw the instant connection between the shows in the first episode of Insecure. In the shows, there are similarities between the way their characters' dress, their standards in men and how they enjoy the finer things in life. Wouldn't be dope if Jill Marie Jones made an appearance in Insecure as Molly's older sister?
8. Molly and Joan looking for their ideal man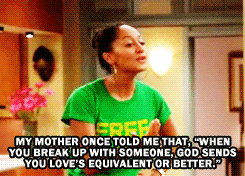 It's always great to find your soulmate, but some may go far and beyond to find the perfect man and relationship. Joan and Molly both share that trait in pursuing their dream man. Joan and Molly share similarities because they were so set on finding their ideal man that they were overlooking the changes they needed to make about themselves first. Molly was so focused on looking for a man with a similar status as herself that she didn't acknowledge how she should've been respectfully treated in season one. Joan on the other hand was more so rushing to get a ring on her finger since her biological clock was ticking.
9. Educated black women living in LA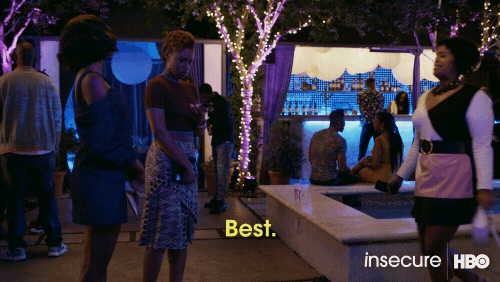 Who doesn't love a good turn up, good company, and LA weather? Girlfriends showed how black women could sit back, relax or turn up and discuss real life issues in a beautiful city. The same can be seen in Insecure. It's wonderful to see how both shows encapsulates the beauty of being educated black women living in the 'City of Angels'.
10. The shade and realness in a girl group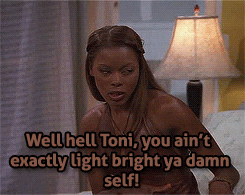 One thing that can be admired about both shows is how all of the characters tell it like it is. That's what friends are for, right? Since your girlfriends are the ones who know you the best, they will keep it real and serve it to you straight, no chaser. Both girl groups are quick to let one another know about themselves. It also doesn't hurt to be a little shady during the process either. That will for sure get the point across and it's all fun. They just want you to be great.
11. The Masterminds: Issa Rae and Mara Brock Akil
If seeing black women creating and executive producing shows that reflect themselves ain't black girl magic, I don't know what is! Both Mara Brock Akil and Issa Rae are inspirations to all black women who aspire to work in the television industry. They took advantage of creating shows about black women where not only a black audience could relate, but they helped other cultures understand what black people go through on a daily basis. Both women sparked conversation and helped us black girls bond on a level you can't even imagine. So salute to these beautiful black women for doing it for the culture!