The South has been a mecca of musical gems for decades now. Every few years, an artist or group drops a song that inadvertently becomes an anthem for years to come. The beat drops, the crowd erupts with a resounding and emphatic "aye", decade-defining dance moves are hit with every 4-8 count and music history is made. Because there are so many classics, a few might slide from under our radar. To give them their due diligence and well-deserved spot on your playlist, here's a compiled list of 13 underrated Southern-fried and dyed anthems sure to get your head bobbin' and your fingers snappin'.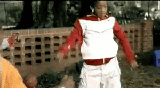 Photo: Lipstick Alley
1. Mike Jones feat. Slim Thug and Paul Wall – "Still Tippin'"
2. Fat Pat feat. Lil' Keke and DJ DMD – "25 Lighters"
3. Tru$ – "Hoody Hooo"
4. YoungBloodz – "Damn!"
5. Z-Ro – "Mo City Don"
6. JT Money feat. Solé – "Who Dat"
7. Devin the Dude – "Doobie Ashtray"
8. DJ Jubilee – "Get It Ready"
9. Magnolia Shorty – "That's My Juvie"
10. Lil' Keke – "Southside"
11. Ludacris – "Southern Hospitality"
12. Int'l Players Anthem – UGK
13. Back That Ass Up – Juvenile
14. I Look Good – Chalie Boy
15. Give Me That – Webbie
16. Barre Baby – Big Moe
17. Scotty – D4L
18. Sippin On Some Syrup – Three 6 Mafia, UGK (Underground Kingz), Project Pat
Do you have a Dirty South that's your personal anthem? Share with us below!