3 Things Bernie Sanders Should Do If He Wants To Secure The Black Vote
If Sanders wants to win the Black vote during the 2020 presidential election, he has his work cut out for him
February 23, 2019 at 7:04 pm
Once again, Senator Bernie Sanders (D-VT) hopes to win over the hearts of Americans, as he runs for the Democratic nomination in the upcoming presidential election. A liberal Independent from Vermont, Sanders has spent over half his life dedicated to fighting for the rights of others. From protesting housing discrimination as a college student in Chicago to addressing the issue of mass incarceration during his early days in the House of Representatives, to many, Sanders has always been down for the cause.
Despite his previous work, a few concerns remain around Sanders' future plans to support the Black community, should he become president. Two issues that have systematically affected Black folks for years are criminal justice reform — or the lack thereof — and the economic impact of nonexistent reparations. It's important that all the Democratic presidential candidates address these topics, as each has both a direct and indirect influence on the betterment of the future for our respective communities.
Both issues have been raised to Sanders in various interviews since his announcement to run. However, he's seemingly dodged related big questions surrounding these concerns. Here are three issues Bernie Sanders should address in order to secure the Black vote.
1. Have a plan for criminal justice reform.
Sanders is known for having been an ally in the civil rights movement and fight for equality in America for decades. During the early '90s, when both Republicans and Democrats sought ways to be "tough on crime," Sanders was against mass incarceration, identifying poverty as the primary cause of increased crime rates and real problem in need of resolving.
"How do we stop crime, which is in fact a very, very serious problem in this country?" he queried during a 1991 speech.
YouTube | Catholics 4Bernie
When Sanders gets down to the nitty-gritty, root cause of crime during this election, having a plan that includes alternatives for the millions of Black and brown bodies sitting in prisons today — many for no reason at all — will be vital to his success.
Today, black men are sentenced to 19 percent more jail time for committing the exact same crime as white men, and African Americans are jailed at more than 5 times the rate of whites. We must finally bring about real criminal justice reform in this country.— Bernie Sanders (@BernieSanders) March 4, 2019
2. Address reparations.
When Sen. Sanders was a guest on The View in February, co-host Sunny Hostin raised the bold question about whether or not he had a plan in place to address reparations for Black folks.
"I think that right now, our job is to address the crises facing the American people and our communities, and I think there are better ways to do that than just writing out a check," he responded, according to The Hill.
Sen. @BernieSanders says he doesn't support reparations for slave descendants because there are "better ways" than "just writing out a check": "I think that right now our job is to address the crises facing the American people in our communities." https://t.co/f8u2wc159S pic.twitter.com/Tll5j2iDaD— The View (@TheView) March 1, 2019
While there may be other ways to address the reparations descendants of African slaves have been owed for centuries, folks would most likely prefer the financial means to counter that economic imbalance he himself has addressed on the Senate floor countless times. In the coming months, Sanders will most likely have to provide a concrete plan and solution to the issue.
In other words: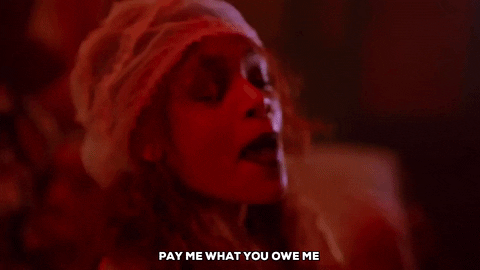 3. Pay attention.
On March 2, Sanders kicked off his campaign, announcing his presidential run with a rally at his alma mater Brooklyn College. Several politicians and activists took to the stage with their endorsements for the second-time presidential hopeful, including columnist Shaun King, who has risen to fame over the past five years due to his quick, efficient and unquestionably detailed social media journalism.
Even as a teenager, Bernie Sanders understood that he had to use his white privilege to fight against bigotry. That's why Bernie helped lead the first known sit-in in the University of Chicago.

Bernie hates to tell these stories. So I'm going to tell them for him. #RealJusticeLA

https://t.co/BrqK79H2Zi
— Shaun King (@shaunking) June 3, 2018
Earlier this year, King came under fire for the way he addressed a young Black woman, who he claims publicly lied on him via Twitter.
I taught Clarissa last semester and learned as much from her as I taught. Shaun King is emailing BLACK. WOMEN. COLLEGE. STUDENTS. and threatening legal action over tweets. Then claiming she retracted a statement when she never did. I'm disgusted and I stand by Clarissa. https://t.co/c3Jg7HLHI1— David Dennis Jr. (@DavidDTSS) January 16, 2019
King later apologized. However, his influence on the Sanders campaign as he tries to dig himself out of this deep negative public relations hole could hurt Sanders' image and potential presidential success.
Yesterday I apologized to Clarissa Brooks privately, but today I want to apologize publicly.

In an attempt to address my sincere concerns with her, I basically traded my hurt for hers, and that's not OK. I'll do better.

Please read. https://t.co/TQXWH12f98

— Shaun King (@shaunking) January 20, 2019
While there's still time before the Democratic nominee is chosen, it seems Sanders might have his work cut out for him, when it comes to proving his commitment to serving Black people as president. Since he struggled to win the Black vote in the South in the previous election, Bernie understands how crucial winning over southern Black voters will be leading up to 2020. According to the New York Times, he has already traveled to South Carolina on several occasions to meet with Black leaders, elected officials and students.
Will Black people "feel the Bern" this time around? We will see.
Now, check these out:
Pay What You Owe: Why The Bill For Reparations Is Past Due And Requires A Real Plan
Kamala Harris and Cory Booker Are Aiming To Restrict Usage Of Solitary Confinement With This New Bill
Senators Kamala Harris And Elizabeth Warren Back Fellow Presidential Candidate's Call For Reparations For Black Americans