Culture
A White Singer Tried To Columbus Megan Thee Stallion's 'Hot Girl Summer' And The Hotties Weren't Having It
This isn't the Nina, Pinta Or Santa Maria...y'all ain't driving this boat.
Photo Credit: Getty Images
The Hotties weren't havin' it when yet another colonizer tried to mayo-tize Hot Girl Summer.
Singer Blackbear sparked the drama when he teased his new song "#hotgirlbummer" on Twitter.
Like what you're reading?
Get more in your inbox.
The tweet included an album cover featuring a non-Black woman sticking her tongue out with a nosebleed and stickers plastered on her face. Blackbear's fans were amped, but Megan Thee Stallion's fans were not cool with it.
can blackbear do this? no anyways stream hot girl summer #hotgirlbummer pic.twitter.com/O1ywKBBDV2

— ✞ (@BAB1EDOLL) August 19, 2019
yall take anything black people do and try and mak let it your own

— 🥀 (@bambamswhore) August 19, 2019

WTF is Hot Girl Bummer and who TF is BlackBear?! Can Megan just be original and left in peace?!

— Mr. Marcus (@infamousRIOT) August 19, 2019
In a now-deleted tweet, Blackbear attempted to explain himself, according to Hot New Hip Hop.
"This song is not a parody & has nothing to do with the other song. it has to do w the caption trend #hotgirlsummer," he wrote.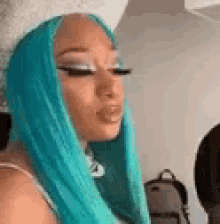 This isn't the first time Hot Girl Summer has been appropriated. Corporate brands have been using it to sell their crap for months. Less seasoned publications have called it a meme and used it to praise white folks.
"You just have to be the life of the party," she told Variety. "You have to be kind, you have to be confident."
She also extended the season and declared the boat wouldn't be docking for a couple more months.
"We've extended the summer, honestly," Megan added. "We're gonna drive it until October. Don't even trip."