Could the NBA playoffs be rigged? Are Steph Curry and the Golden State Warriors already hand-picked by the NBA to end up in the finals? According to many NBA conspiracy theorists – yes. Critics have even more ammunition now after the NBA created a Facebook event for the first finals matchup with the Warriors vs. the Cleveland Cavaliers.
But Game 7, the Warriors vs. the Oklahoma City Thunder, hasn't even taken place yet!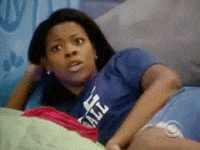 Photo: Giphy
SB Nation
first captured the screenshot of where the NBA created events for next week's games, listing the Warriors/Cavs first matchup beginning June 2. The events have since been deleted. [caption id="" align="aligncenter" width="700"]
Photo: SB Nation[/caption] Thunder fans and Curry haters alike have been crying foul, saying that it doesn't make sense for the Thunder to have been leading the series 3-1 at one point, with two of those wins having large deficits.
I guess we'll see if this prophecy rings true during the Western Conference finals, airing Monday night.
Photo: Giphy
---
Share this article with your friends on Facebook and Twitter below!
---