That damn Carter dynasty just won't let up.

Photo: Giphy
Beyoncé and her company, Parkwood Entertainment, have applied to the U.S. Patent and Trademark office to trademark Blue Ivy Carter's name. The trademark is said to cover everything from beauty products to hair care. The real kicker is the trademark application also covers "entertainment services in the nature of live musical performances; production of motion picture films [and] fan clubs."
Though nothing's official just yet, one can only imagine the level of creativity and flawlessness a Blue Ivy Carter-patented product would possess. Not only that, but it would be quite the venture and welcomed in its targeted demographic no matter what. At only five years of age, Blue Ivy Carter is already a force in this game.
If accepted, this patent would be a success for the Carters as they were unable to trademark "Blue Ivy" shortly after baby Blue's birth.
Slay. All. Day.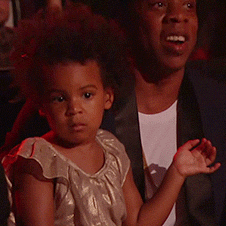 Photo: Giphy