Cardi B Does It For The Kulture One More Time By Giving The Internet Another Classic '90s Meme
Cardi and Hennessy are like Batman and Robin.
Having a baby isn't slowing Cardi B down not one bit. The Invasion of Privacy rapper has shared another photo from her 1990s childhood making the net go batsh*t with the memes.
On July 13, Cardi shared a sepia-toned photo of her and younger sister Hennessy Carolina looking adorable in overalls. But if you know anything about kids, looks can be deceiving.
It is very possible everybody's favorite rapper was a handful and a half.
What was the reason ??!! Hennessy : Yea! What was the reason??!! pic.twitter.com/fmmg1eDi0J

— iamcardib (@iamcardib) July 13, 2018
As soon as the photo hit the net, it was already comedy gold.
Mama said you have to take both of us pic.twitter.com/DugyzZuo3t

— ˢᵃⁿˢᵃ (@lizzygranvt) July 13, 2018
When yo mama buy you some back to school clothes & she tells y'all to try them on ???????? @HennessyCB
pic.twitter.com/xZfaLltzhl

— ????Jaee (@lilmjayyy) July 13, 2018
— Nikki Blount Jackson (@NikkiBJaxx417) July 14, 2018
"THIS IS OUR PLAYGROUND, y'all can't play here" pic.twitter.com/Vidw73VWHn

— Cardi B Official Team (@CardiBTeam) July 13, 2018
"hands up, cash out" pic.twitter.com/dwl630zNog

— geo (@georgtte_) July 14, 2018
We can't wait to see what she drops next.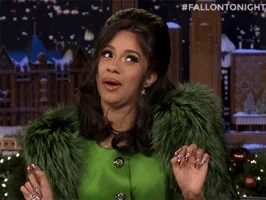 Liking this content? Check these out:
'We Are All Sluts:' This Woman's Response To A Problematic Pastor's Question During The SlutWalk Is Reviving Our Zest For Life
Taylor Bennett Speaks Out On His Decision To Come Out On Twitter: 'I Wanted To Say Who I Was'
Pusha–T Launches Hip-Hop App That Pays Fans For Rating Music