Politics
Cardi B's Former AP Government Teacher Defends Rapper Against Critics Of Political Commentary: 'STFU And Take A Seat'
Come thru, Ms. Hill!
Classism, racism and other isms cause people to believe hood folks like Cardi B can't be smart.
Bardi's former history teacher has something to say to those people: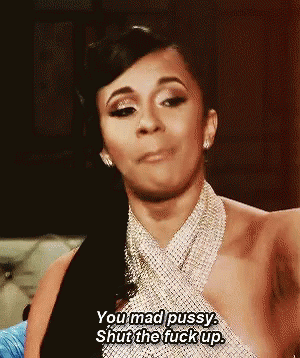 Joan Hill had smoke for people who insulted her former pupil's intelligence.
Like what you're reading?
Get more in your inbox.
"I know that she's strict, but every single day until this day of my life, Ms. Hill was always in my head," she said in an interview.
Cardi has also been open about her love of history and politics.
"I love political science," she told GQ last April. "I love government. I'm obsessed with presidents. I'm obsessed to know how the system works."
She gets annoyed when people question her motives when she speaks out.
"I'm always watching the news," she added. "I'm always looking at it on my phone. I hate when you talk about something that's going on in the community, people think, because you're famous, you doing it for clout. But you concerned about it because you are a citizen of America; you are a citizen of the world. If I want to get cool points, I could take a picture with a thong and my a*s and y'all gonna give me the same amount of likes. I'm gonna trend even bigger."
Sponsored Content
8 Tools You Should Use To Help Achieve Your Personal Goals