Chance The Rapper has been putting his money where his mouth is when it comes to looking out for his city. From supporting public schools to encouraging the community to join him in assisting Chicago's Youth, Lil' Chano is 100 percent for the kids. He has also been very vocal in his criticism of the Second City's Mayor Rahm Emanuel.
Now, according to the Chicago Tribune, Chance is making sure everyone knows his concerns regarding Emanuel's new $95 million police academy development program, which he believes isn't the way to go.
Chance attended a meeting at city hall voicing his concerns, noting, "There's a lot of ways to transform the city without policing."
Chance the Rapper at city hall speaking against Rahm's $95 million cop academy: "There's a lot of ways to transform the city without policing." @ChanceUpdate pic.twitter.com/bZYdsQZokh— Sarah Lazare (@sarahlazare) November 8, 2017
The academy is part of a plan to address problems the U.S. Justice Department found with Chicago's police force.
The Chicago Reporter reports that the DOJ found "that CPD was responsible for the use of excessive and deadly force against people who pose no threat, use of force in health crises, exhibit racially discriminatory behavior, having officers with no accountability and who are poorly trained."
Proponents of the new academy say that not only will it ensure Chicago's officers are better trained, but that it will inject economic development into the city's West Side, which much like Chano's South Side, currently lacks the same educational and work opportunities found in more affluent parts of the city.
Critics like Chance point out that the city doesn't have all of the money it needs to build the facility, and say that rather than throwing away money at something that many not get finished, the city ought to invest that money in programs that could immediately benefits its citizens.
"What is y'all doin'?" Chance asked at the meeting, which was open to the public. "It doesn't make sense. I'm very confused. But like I said, you guys have a lot of power, and that's why I showed up at 8 a.m., because I feel like it's — maybe if you guys just hear me say it. I'll take pictures with everybody afterward if you want me to."
"We don't have $95 million," Bennett added. "They are just asking you for $10 million today to purchase the land, but we don't have the rest of the money to do it, so why let them go ahead with this right now?"
The city has the $10 million needed to buy the land for the academy, and the mayor's office says that sales of city properties can raise another $48 million. Which leaves the city $37 million shy of the $95 million needed — and that's just if the project is completed on time and on budget.
"I'm pretty sure it's going to be a victorious day for us if you guys in this meeting put your foot down on something that you know is illogical," Chance said. "I also don't want anybody to think I'm trying to take anything away from the West Side. I think the West Side deserves more attention than it's been getting. I just think that there's different ways to go about it."
Instead of spending the $10 million on land, Chance suggested that it instead be invested in public education, the public library or even in one of the city's many museums.
Although aldermen listened quietly to Chance's pleas, Mayor Emanuel didn't get to hear Chance's concerns in person. For whatever reason, the mayor left just before Chance took the mic.
Of course, the rapper had some snarky words to say about that. "I guess the mayor had to step out when I walked in," the rapper quipped.
"I guess the mayor had to step out when I walked in" ☕️ https://t.co/86S554i4M3— wikipedia brown (@eveewing) November 8, 2017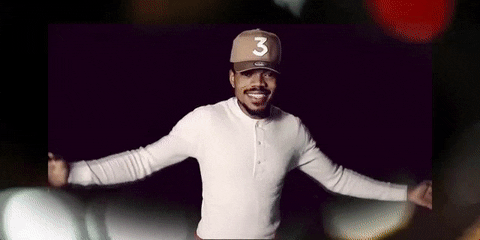 We'll be on the lookout for Mayor Emanuel's comeback to that one. Chicago has not announced any plans to halt its construction of the academy, despite the protests Chance and other citizens.