News
Cyn Santana Apologizes For Saying Black Men 'Cater To' Latinas
Santana made the comment in a 2016 interview with Angela Yee.
We've come to expect questionable hot takes from Joe Budden, but an old interview has his fiancée extending an olive branch over comments that are causing a stir.
Cyn Santana made the comments during a 2016 episode of Angela Yee's podcast Lip Service, reports The Hollywood Unlocked. Santana was explaining why she wasn't attracted to Latinxs.
Like what you're reading?
Get more in your inbox.
"I just love Black guys and Spanish girls together … y'all can keep the Puerto Rican men. I'm good. I do Black guys all day. I did the Spanish thing. It doesn't work out for me. I'm good," Santana said.
When asked about the reasons for her preference, Santana said she thought Latinx men were "too emotional" and "way more possessive" than Black men.
She also implied Black men give Latinas special treatment.
"Black guys cater to us Spanish girls, especially. Like, they ... you know what. Let me not even get into that," Santana said.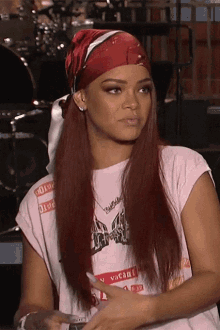 Angela Yee joked Santana would get dragged by Black women following the interview's release, and Santana made a weak attempt to clean up her statement.
"I didn't mean it like that. But, you know, the Black girls gon' take it personal. But, no. I'm done with the papis," she concluded.
The day of reckoning Yee foresaw came almost three years later.
Twitter snatched Santana from her self-made pedestal and questioned how Santana and Budden's Love and Hip-Hop storyline fit into her narrative.
Did Cyn Santana actually say Black men cater to Spanish women because they don't have attitudes like Black women. pic.twitter.com/gUq7b4jfYf

— keejä (@B_tcraft) January 9, 2019'
Cyn Santana basically said that she dates black men because they treat Spanish women better than black women, black women have "attitudes". sis, your black man beats women into miscarriages and writes songs about it. your black man got you begging for dick on tv. LMAOOOOOO bye.

— Kyrie Irvings Secret Black Gf 💕 (@empyreall) January 9, 2019'
Cyn Santana using her relationship with a man who beat his ex to the point of miscarriage in order to insult Black women is HIGHLARIOUS.

Girl, you can k-e-e-p that negro and other negros like him. I'll be over here single and not getting my ass beat. pic.twitter.com/grFL2Bur6b

— K.Elizabeth AKA Cleopatra Jones Jr. (@theKelizabeth82) January 9, 2019'
Cyn Santana got on that podcast and said Black men cater to ✌🏾Spanish✌🏾 women because they don't have attitudes like Black women 🙄 meanwhile she's on national tv begging her Black man for sex and sensitivity...girl I guess... pic.twitter.com/h6s3hq86bu

— The Harlem Shimmy (@Say_Yes_2theJes) January 9, 2019'
It's not all Cyn Santana's fault for her ignorance. Black men are programmed that anything non-black or mixed is better. They will literally kill themselves if they can't get one. Cyn was just mirroring exactly what she's probably been told by black men so she believed it.

— 𝑀𝒶𝓀𝑒𝓊𝓅✖️𝐵𝑒𝒶𝓊𝓉𝓎✖️𝐵𝓁𝑜𝑔 (@glowingbb) January 9, 2019'
I usually go up for Cyn Santana but I'm not surprised at all by what she said . Spanish women BEEN feeling superior to black women & black men validate said feelings . This is nothing new

— IDontReplyToDMs (@DamnSheBADD__) January 9, 2019'
Wait Cyn Santana said that black men cater to Latinas bc they don't have attitudes like black women? Wasn't she begging for abusive dick on national tv and threw a tantrum and jumped of the car over it? 🤨 and y'all def have worse attitudes than us pic.twitter.com/zhpn1B3bQT

— A. ❣️ (@AT_Tunechi) January 9, 2019'
The Twitter users were referencing an argument the couple had on Love and Hip-Hop that included a debate about Budden's busy schedule, his reluctance to have sex and Santana's worries about her postpartum depression.
Santana apologized on Wednesday, writing, "I've never bashed a Black woman in my life. ... If I've offended anyone I do indeed apologize."
I wanna be VERY clear on where EYE stand. I've never bashed a black woman in my life. NEVER have and never WILL. It ain't in ME. I don't feel it. I improperly used the word "especially" in the interview which made it seem to some as if I was separating myself and looking down on

— Cyn Santana (@Cyn_Santana) January 9, 2019'
If I've offended anyone I do indeed apologize, I used the word "especially" in a way that changed the context of what i was trying to say for some, and while i was TRYING to be sensitive I used the word "personal" because I know its a sensitive topic. I'm not here to attack.

— Cyn Santana (@Cyn_Santana) January 9, 2019'
Nah I'm gonna explain myself because these strangers are black women. And I especially love THE BLACK WOMAN. I've never in my life bashed one. Never will. So yeah ima explain myself and shed some clarity on a clip that's being spread around with little context https://t.co/HoxxtEvxSW

— Cyn Santana (@Cyn_Santana) January 9, 2019'
Blavitize your inbox! Join our daily newsletter for fresh stories and breaking news.
---
Sponsored Content
How Interior Designer Ajia Monet Was Able To Defy The Odds And Create A Successful Business Out Of Her Passion