Dwayne "The Rock" Johnson is known as a charismatic figure whose impact extends across sports, entertainment, and more. Born on May 2, 1972, in Hayward, California, Johnson's life has been nothing short of a movie. He initially made his mark in the world of professional wrestling, where he followed in the footsteps of his father, Rocky Johnson, and his grandfather, Peter Maivia, Johnson. In 1996, Johnson quickly rose to become one of the most iconic and beloved figures in the WWE world, though that's not all his claim to fame is known for.
Having starred in a variety of films such as "Fast & Furious," "Jumanji," "Red Notice," and a surprising cameo in "Free Guy" to name a few, Johnson is surely living life like a movie star outside of the film world. And though his wrestling and movie appearances have always remained at the forefront of his stardom, his ethnicity has also sparked much intrigue over the years. As one of the most decorated wrestlers in the industry, Johnson's mixed heritage is just one of the many facts to know about the wrestler, which only adds to his decorum and fame as a world-class celebrity. Whether it's his stellar movie charisma or interesting ethnic background, ahead, we dive into Johnson's ethnicity.
@therock/Instagram
What Is Johnson's Father's Ethnicity?
On his father's side, Rocky Johnson is of African-Canadian descent. Hailing from Nova Scotia, Canada, the Johnson lineage connects back to the Black Nova Scotian community, where Black loyalists and freed slaves settled. His heritage on his father's side makes him a descendant of African Americans who left the United States alongside the British at the end of the American Revolution.
@therock/Instagram
What Is Johnson's Mother's Ethnicity?
On his mother's side, Dwayne Johnson's ethnicity is deeply tied to the Pacific islands. His mother, Ata Maivia, comes from a Samoan heritage and is known for their strong sense of community, vibrant traditions, and warrior spirit. Johnson's Samoan roots have a significant influence on his identity and outlook. By embracing this side of his ancestry, Johnson often pays homage to his family's connection to the islands and the values instilled in him through this heritage.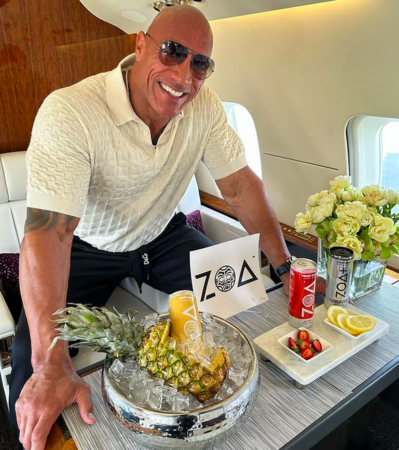 @therock/Instagram
His Ethnicity Has Shaped His Journey To Success
Johnnson's fusion of African-Canadian and Samoan backgrounds has shaped his identity in his personal life and his public persona. From wrestling to film production and even in his acting career, he proudly celebrates his diverse heritage and often shares stories from his family's lineage. Johnson has never shied away from talking about the values he's gained from both sides of his ancestry, making him a genuine persona we've come to know and love. His blend of cultures has undoubtedly contributed to his charisma, authenticity, and global appeal, all while resonating with people from various backgrounds. In context, Dwayne Johnson's ethnicity is a testament to the impact of cultural diversity within the entertainment industry, and the strength that comes from embracing one's roots with pride.
In essence, Dwayne Johnson embodies the modern Renaissance man. Whether he's stepping into the wrestling ring, gracing the green screen, or motivating others through his words and actions on social media, Dwayne Johnson is a great figurehead and leader.