Here's What All The Black U.S. Senators Had To Say About Trump's SCOTUS Pick, Brett Kavanaugh
Harris, Scott and Booker all spoke their piece.
Justice Anthony Kennedy's retirement from the U.S. Supreme Court shook us all, particularly liberals and moderates, who fear President Trump's promise to install a conservative, anti-Roe v. Wade justice in the U.S.' highest federal court.
On Monday, President Trump finally announced who he wants in Kennedy's seat: Brett Kavanaugh.
According to CNN, Kavanaugh fulfills Trump's promises: he is conservative, and his rulings suggest he's no fan of Roe v. Wade. Kavanaugh has also gone on record saying the president of the United States should be above the law, which has some critics concerned that should the Mueller investigation find wrongdoing on the part of President Trump, and should a case against Trump come before the court, a Justice Kavanaugh would be firmly on the president's side.
All three black senators had something to say about Trump's announcement. With Republicans holding a slim majority in the Senate, and some Republican senators such as Maine's Susan Collins believed to be on the fence about Kavanaugh, the president may need some Deomcrats to back his pick in order to see Kavanaugh on the Supreme Court.
Senator Cory Booker (D-NJ) shared a long thread of tweets that were essentially an essay explaining why he is firmly opposed to Kavanaugh's nomination:
If Kavanaugh is confirmed, we could see progress rolled back on many issues including the right of women to make their own medical decisions, voting rights, rights of workers to organize for better wages & working conditions, the principle of equal justice under the law & more.— Sen. Cory Booker (@SenBooker) July 10, 2018
Taking a page out of Senate Majority Leader Mitch McConnell's (R-KY) playbook, Booker also said Trump shouldn't be allowed to nominate a new justice seat, given Trump is part of an ongoing criminal investigation:
I'm going to do everything I can to stop Judge Kavanaugh's nomination—but there are also strong reasons why this president shouldn't be able to nominate, nor should the Senate even debate a nominee at this time.— Sen. Cory Booker (@SenBooker) July 10, 2018
We can't underscore enough the fact that @realDonaldTrump is a subject of an ongoing criminal investigation & there's a clear conflict of interest for this president—who has a history of demanding loyalty tests—to name a justice to the court that could be involved.— Sen. Cory Booker (@SenBooker) July 10, 2018
The Supreme Court could eventually end up issuing a decision on whether a sitting president can pardon himself or be criminally indicted—President Trump should not be able to nominate a justice to that court while his own investigation is ongoing.— Sen. Cory Booker (@SenBooker) July 10, 2018
Kavanaugh has written extensively on his beliefs that a sitting president shouldn't be subject to criminal investigations or civil lawsuits—this all but assures he would work to shield Trump from any litigation or criminal proceeding related to the special counsel's investigation— Sen. Cory Booker (@SenBooker) July 10, 2018
Senator Kamala Harris (D-CA) wasn't playing any games in denouncing the pick either. She spoke on the nomination on Tuesday, and uploaded a clip of her statements on her Facebook page:
"If you are a young woman in America, or you care about a young woman in America, pay attention to this because it will forever change your life," Senator Harris said, addressing fears that a court featuring Kavanaugh would reverse Roe v. Wade, essentially ending the legality of abortions.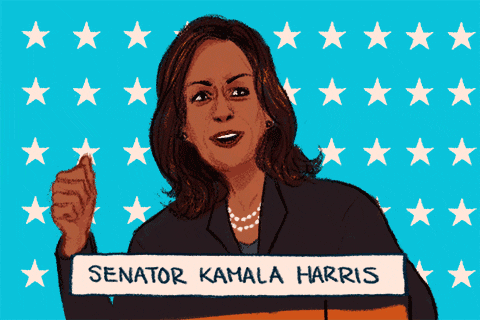 The sole black Republican senator, Senator Tim Scott (R-SC) had a very different take. Although Scott publicly lobbied for a different pick, he refrained from criticizing Trump's choice, instead saluting Judge Kavanaugh's "impressive resume."
My statement below on the #SupremeCourt Justice nominee: pic.twitter.com/2Kn9NGjMHk— Tim Scott (@SenatorTimScott) July 10, 2018