This Juneteenth, We Want Equal Access To The Ballot
Despite having the freedom to vote on paper, communities of color are still vastly and disproportionately impacted by voter suppression efforts that aim to silence our voices.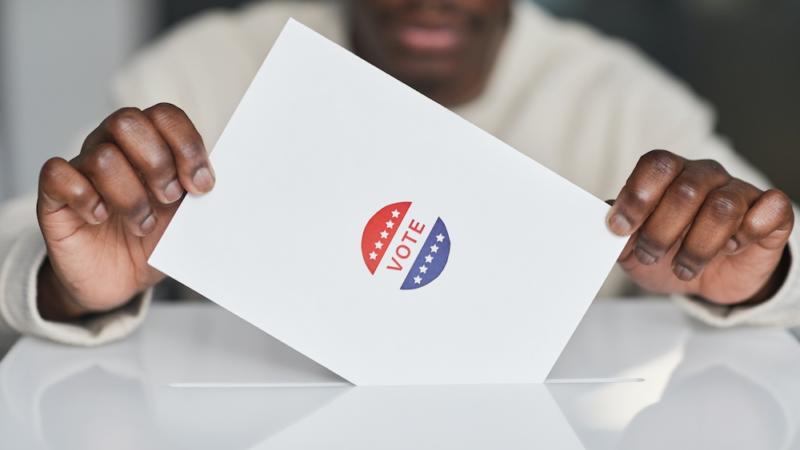 Juneteenth can be recognized in many different ways. To some, it's just a regular day. To others, it's a day off of work or a plate to be eaten. How to celebrate is up to each person's own discretion. All you usually need to know is that you better not be late and, if there are leftovers, you better grab a to-go plate!
Simply put, Juneteenth is a celebration — a day to relax, reflect and be unapologetically Black. We celebrate this day annually on June 19 in observance of the complete emancipation of enslaved people in the United States. And since last year, it's been formally recognized as a federal holiday.
First and foremost, I say, "enslaved people" intentionally. So often people get caught up in the usage of the word "slaves," but it's imperative that American society is reminded that these people were taken and sold against their will. They were enslaved, not slaves by choice.
For so long, African Americans were forced into treacherous conditions, and therefore, it is only fitting that we now celebrate in any way we see fit. The emancipation of enslaved people was a baby step that led African Americans to succeed in more ways than mankind would have ever imagined. I choose to spend Juneteenth reflecting on the fact that, instead of having a day off from a regular job, it is a day off from a *dream job, which would never have been obtained had we not been freed. Rather than eating at select restaurants, not being able to vote or simply treated like a human being, the options are now limitless in terms of the choices and success African Americans now have thanks to the basis of the Juneteenth holiday.
In today's society, we have the ability to vote in our nation's elections and cast ballots in support of political candidates of our choosing. But as we think about the choices that African Americans' have now, we must also think about the long-lasting impacts of the history behind Juneteenth. In order to close the ingrained inequity and discrimination that persists in America today, it's essential that we continue to fight to protect and expand our civil rights.
Despite having the freedom to vote on paper, communities of color are still vastly and disproportionately impacted by voter suppression efforts that aim to silence our voices.
Casting a ballot that counts is our way of making our communities' needs and priorities clear to the people in power. Equal access to the ballot is fundamental to achieving change in all other aspects of our society — gender, racial and economic justice, and more. We need elected officials to commit to ensuring that every American who wants to vote can do so. We need the passage of federal legislation, like the Freedom to Vote Act, that will protect the right to vote regardless of what state voters live in. And we need state and local officials to take a stand against the rampant wave of harmful voting restrictions moving nationwide with their own protections.
It's clear that Black freedom relies on voting rights, and we must encourage our community to show up at the polls to vote to demand the things we care about the most.
Though this holiday has only recently received the recognition it deserves, it's a great idea to shine light on some of the ways in which it is celebrated. Many people attend festivals, host cookouts and barbeques, and reflect on all that African Americans have had to go through to get to this point. Though the battle is not won, it is important to acknowledge and appreciate the ground covered thus far. It's exciting to see the innovative ideas that have come to fruition to celebrate the holiday, and people are becoming increasingly creative each day.
Juneteenth means something. It means something to the African American community, and it should mean something to you. I challenge everyone to gather your to-go plates and head straight to the polls so we can inflict more of the desperate changes that still need to be seen in American society today.
____
Tiya Cantrell is a student at Tuskegee University and a Democracy Fellow for the Fair Elections Center's Campus Vote Project.
____
If you're interested in sharing your opinion on any cultural, political or personal topic, create an account and check out our how-to post to learn more.