Kanye, Under More Scrutiny, Is Acting More Stupidly -- And Has Twitter In A State Of Confusion, Concern And Cancellation
Oh no Kanye, what is you doing? No ... really, what are you doing?
April 25, 2018 at 11:52 pm
Kanye West's celebrated return to Twitter started off with a bunch of semi-innocent philosophical tweets for his rumored "book." Everyone was happy to see the rapper back on the platform, but things quickly went left. Well, actually ... they went right. Far right.
Following his tweet about Candace Owens, West went a step further and tweeted about President Trump.
Perhaps y'all remember that time West was spotted on tape with Donald Trump looking awfully buddy-buddy, and having most of us scratching our heads in confusion. Well, now there's absolutely no question on how the rapper feels about Trump.
Wednesday, Kanye called the president his "brother."
You don't have to agree with trump but the mob can't make me not love him. We are both dragon energy. He is my brother. I love everyone. I don't agree with everything anyone does. That's what makes us individuals. And we have the right to independent thought.

— KANYE WEST (@kanyewest) April 25, 2018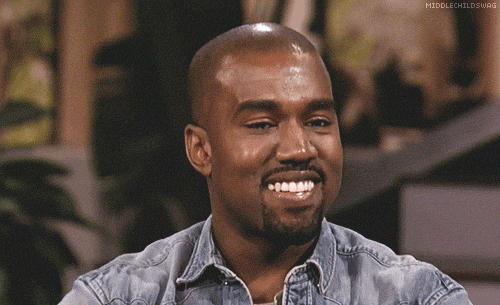 Later he tweeted a picture of his signed MAGA hat. Yes, West has one of those red hats:
my MAGA hat is signed 🔥🔥🔥🔥🔥🔥🔥🔥🔥🔥🔥🔥🔥🔥🔥🔥🔥🔥🔥🔥🔥🔥🔥🔥🔥🔥🔥🔥🔥🔥 pic.twitter.com/DrDHJybS8V— KANYE WEST (@kanyewest) April 25, 2018
Let us tell you a little bit about how the hand gesture in front of @kanyewest is tied to white nationalism and the alt-right. https://t.co/lIyPlB4m9T— CA Immigrant Youth (@CIYJA) April 25, 2018
To top it all off, Trump reveled in Yeezy's love-fest and thanked him; pretty much sealing their "bromance."
Thank you Kanye, very cool! https://t.co/vRIC87M21X— Donald J. Trump (@realDonaldTrump) April 25, 2018
Then all hell broke loose--in every which way--from folks "throwing the whole Kanye away," to fans grappling with the realization that "old Kanye" may be lost forever, to people celebrating Kanye as a new icon of the right, to people expressing real concern about his mental state.
No matter what position people held, they all had questions---many, many questions.
Fox News basically celebrated after West's official Twitter support of the president:
.@kimguilfoyle breaks down today's @kanyewest/@realDonaldTrump saga. https://t.co/Jp844alydI pic.twitter.com/WCTdXawfSy— Fox News (@FoxNews) April 25, 2018
And while the network was busy with that, others were cancelling West like a low rated television show:
Goodbye Kanye. It's been an amazing ride. Some of your albums were truly life changing for me. I'll treasure my interviews with you. Thank you for your artistry and your transparency. Here though, is where I must get off...

— DEVI BROWN (@DeviBrown) April 25, 2018
i used to be the one defending kanye AGAINST white supremacists and now white supremacists are defending kanye against ME pic.twitter.com/SDsOlWffji— jaboukie young-white (@jaboukie) April 25, 2018
Your man is calling Cheeto Satan his brother. I ain't gotta wait a few years to know how out of pocket that is. Good job on standing by your husband, doe. https://t.co/OiLc0igoSy— Awesomely Luvvie (@Luvvie) April 25, 2018
Now more than ever this video applies to @kanyewest
Poet - Jasmine Mans pic.twitter.com/5i7geLhWGu— Must be a you problem (@DannyLander) April 25, 2018
And we all have to decide individually what the "thing" is that eventually makes us walk away. https://t.co/mYi3OKUk4i— April will be at #WICOMICON (@ReignOfApril) April 23, 2018
The MAGA hat turned out to be the last straw for over 9 million people, every one of whom unfollowed Kanye less than 10 minutes after he posted the photo:
ZAYN UNFOLLOWED KANYE TOO I LOVE THE RIGHT BOYS

— tasha (@louvinglyharry) April 25, 2018
.@KanyeWest loses 9.2 MILLION followers in less than 10 minutes after posting a photo of him wearing a "Make America Great Again" hat. pic.twitter.com/fXVZaUAMF0— Pop Crave (@PopCrave) April 25, 2018
Quite a few users subscribed to the idea Ye is pretty much the poster boy for "there is no such thing as bad press" and is likely just seeking attention to help promote something personally profitable (like an album or two, perhaps?). The artist announced last week that he has two new records coming this summer, along with an album he produced for Nas.
Y'all falling right into Kanye hands. Don't take much to get y'all riled up

— lil duval (@lilduval) April 25, 2018
Kanye is fooling all of you! He's creating all this mess, saying shocking stuff just to promote his upcoming albums! SAD! pic.twitter.com/T6IeYORzJx— CELEBSGO (@celebsgo) April 25, 2018
Yeezy fans were in a glass case of emotions:
Me streaming that kanye west album still pic.twitter.com/Uwa86JxSA6— Panda (@Metonymontanas) April 25, 2018
With Old Kanye looking at New Kanye like...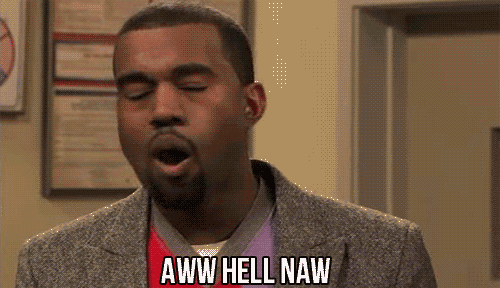 "Kanye West doesnt care about Black People" pic.twitter.com/kFhKmz8tZy— SLD (@SLDTheWriter) April 25, 2018
2004 #kanye: "Racisms still alive, they just be concealin' it
I get down for my grandfather who took my momma
Made her sit in that seat where white folks ain't want us to eat"

2018 #kanye : pic.twitter.com/Q2TkzyE9jR— 4🛸 (@stormieley) April 25, 2018
Kanye West predicted his own demise. He became the SAME person he used to critique in his polos and backpacks days. If this isn't a true testament to living long enough to see yourself become the villain I don't know what else is.

— Shahem (@officialshahem) April 25, 2018
While those folks were lamenting the past, others were hoping for a Kanye-in-the-White-House future:
Follow everyone who likes or Retweets this. 🎲

Kanye for president 2024— Juno (@JunoSnez) April 25, 2018
Many people showed concern for the artist's mental health and well-being, which prompted a discussion and debate about mental illness:
Mental illness doesn't care if you are rich or famous. Kanye has battled serious health issues for a long time and I wish him the best. Trump is not his friend.

— Molly Knight (@molly_knight) April 25, 2018
On the one hand Kanye is clearly in the middle of an extreme episode of mania and I'm concerned for his mental health. On the other hand, wtf was that Peter Thiel tweet.

— John Gary (@johngary) April 25, 2018
The misogynoir is real. People keep diagnosing @kanyewest as a way to defend their support of him. That is ableist AF and isn't how to talk about mental health in the Black community. Then there are those who blame the women in his life. Yeah, sexism isn't working either.— Ernest Owens (@MrErnestOwens) April 22, 2018
Talked to him two days ago. He's in a great space and not affected by folk tryna question his mental or physical health. Same Ye from the Vmas, same Ye from the telethon. https://t.co/2zY3KpllV2

— Chance The Rapper (@chancetherapper) April 25, 2018
To the media trying to demonize my husband let me just say this... your commentary on Kanye being erratic & his tweets being disturbing is actually scary. So quick to label him as having mental health issues for just being himself when he has always been expressive is not fair

— Kim Kardashian West (@KimKardashian) April 25, 2018
The man behind the term "sunken place," Jordan Peele joined in on the trending topic:
*Gets inspired
*Starts writing 'Get Out 2' https://t.co/zqOW6Xxx9v— Jordan Peele (@JordanPeele) April 25, 2018
Fans of other celebrities were quick to ask if their tweets were about Kanye, like when Jaden Smith and J. Cole offered the internet these terse tweets:
False Idols

— Jaden Smith (@officialjaden) April 25, 2018
"These are our heroes" - @nas

— J. Cole (@JColeNC) April 25, 2018
Musician Questlove just wanted to know what it was like to feel hopeful again.
dear @VinceStaples can you just say something......anything....inspirational? for i just give up on mofos?— T'Questlove (@questlove) April 25, 2018
West came back to Twitter to "clear" up some things as well as let us know that despite the flurry of activity around him, he is perfectly fine and is the same Ye we've always known.
my wife just called me and she wanted me to make this clear to everyone. I don't agree with everything Trump does. I don't agree 100% with anyone but myself.

— KANYE WEST (@kanyewest) April 25, 2018
And any fan of me wants Ye to be Ye even when they don't agree because I represent the fact that they can be themselves even when people don't agree with them. Drops mic 🎤Yeezy shrug 🤷‍♂️

— KANYE WEST (@kanyewest) April 25, 2018
I feel calm but energized pic.twitter.com/kMmtoUU7Ty— KANYE WEST (@kanyewest) April 25, 2018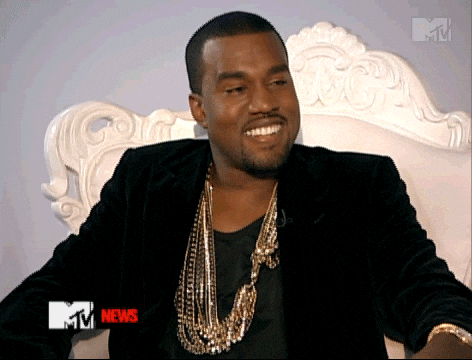 How Sway?