Marshawn Lynch Set To Come Out Of Retirement And Join Raiders
April 26, 2017 at 2:36 pm
Even if he wasn't your favorite RB, it was hard to see Marshawn Lynch retire back in 2016 after SuperBowl 50. He was a great player and gained a lot of stardom off the field for just being authentically real and always hilarious.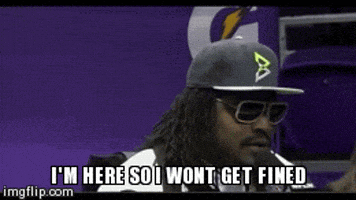 Photo: Giphy
Well, we may be seeing some more of Lynch in the upcoming NFL season because rumor has it that if all goes according to plan, he will officially be a member of the Oakland Raiders. According to this report, Lynch's representatives and the Raiders have agreed to terms on a contract, and the team has hashed out the details of a trade for Lynch's rights with the Seahawks over to the Raiders. The only thing left to seal the deal is for Lynch to pass his physical today after he returns from his trip to Haiti, where he and his former Seahawks teammates have been touring the country to build schools and houses.
The Raiders and Lynch have agreed to terms on a contract for the 2017 season, agreeing on $3 million base with a chance to make $2 million more if he gains 1,000 yards. The max value of the contract is $8.5 million.