Mauritius' newly-elected president joins a growing list of African female heads of state
This weekend Dr. Ameenah Gurib-Fakim, a biodiversity scientist, was sworn in as the sixth president and the first woman president of Mauritius, a small island nation off the cost of Madagascar.
For more info about Dr. Gurib-Fakim, check out her talk on biodiversity with TEDGlobal last year.
While Gurib-Fakim may be the first woman president elected for her country, she joins a growing number of women who have served as heads of state on the continent of Africa.
Carmen Pereira
Pereira served as acting president of Guinea-Bissau from May 16-18, 1984, the first woman to do so in Africa, and the first and only woman to do so in Guinea-Biassau's history.
Sylvie Kinigi
While Kinigi was prime minister of Burundi, beginning in July 1993, she also served as acting president of the country from October 1993 to February 1994. She is the first and only woman to hold those positions.
Ruth Perry
After the first Liberian Civil War, Perry was appointed as chairperson of the Council of the State of Liberia from September 1996 to August 1997. In doing so, Perry became both the first female president of Liberia and the first in Africa.
Ellen Johnson Sirleaf
The present president of Liberia, Johnson Sirleaf, became the first woman elected head of state in Africa in January 2006.
Rose Francine Rogombé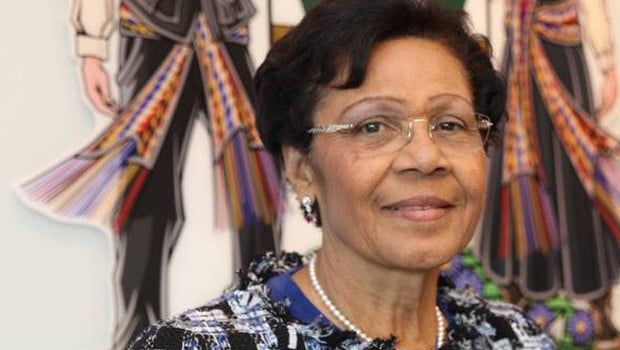 Rogombé, who passed away in April of this year, was acting president of Gabon from June to October 2009.
Monique Ohsan Bellepeau
Ohsan Bellepeau has been vice president of Mauritius since 2010, but briefly took on the role of acting president from March to July 2012 and very recently from May 29-June 5 of this year, preceding the inauguration of Gurib-Fakim.
Joyce Banda
Banda has had a number of positions in Malawi. She was the minister of foreign affairs from 2006 to 2009, was vice president in 2009, and became the country's first female president from April 2012 to May 2014, following the death of President Bingu wa Mutharika.
Catherine Samba-Panza
Samba-Panza has been the acting president of the Central African Republic since January 2014.
For more posts about inspiring women, subscribe to our weekly digest below.
[mc4wp_form]