Nicki Minaj Awards 37 Scholarships To Her Most Die-Hard Barbz
Sallie Mae better watch her back!
July 03, 2018 at 12:28 pm
Nicki Minaj is helping a few of her fans finish their education.
Billboard reports the "Barbie Tingz" rapper announced the receipients of her "Student of the Game" scholarship on Friday, June 29, via her website.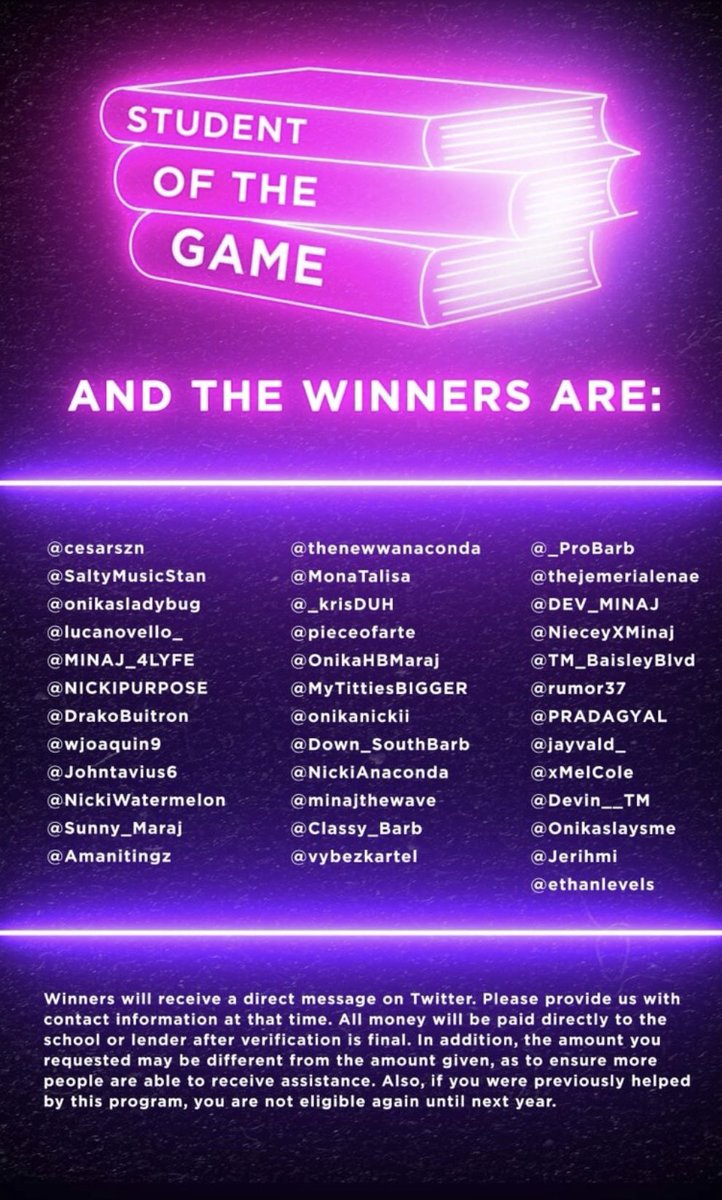 Minaj was inspired to start the scholarship fund after she randomly paid off a few folks' tuition and loans on Instagram in May 2017. She promised to set up an official fund, and she kept her promise.
According to Minaj's Twitter, fans can win multiple times but not consecutively.
https://t.co/MwbcHJYUX2 If you were picked last time AND this time, I'll swap you out w|someone else & you'll be eligible next year. ????♥️????

— Chun-Li (@NICKIMINAJ) June 29, 2018
Some of the winners expressed their excitement on Twitter:
God is so good I'll forever be grateful for my fav & everything she does for us pic.twitter.com/NNazHsSN6a

— Pussy On W (@Johntavius6) June 29, 2018
OMG THANKS EVERYONE! ????❤️ #StudentOfTheGame I'm so happy! I would have been genuinely happy for y'all even if I didn't get chosen, but to share it with y'all >>>>>> Such blessings!

— тαℓιѕα. ???? (@MonaTalisa) June 29, 2018
Wait. Hol' on. I'm on the train and I can't spazz tf out like I want to omfgggg. I'm….. just… Overwhelmed. pic.twitter.com/We0o7KXieG

— Arte. (@pieceofarte) June 29, 2018
And he came through you. Thank you. ????

— PATIENT (@MyTittiesBIGGER) June 30, 2018
Nicki is such a blessing pic.twitter.com/BkwzOSvM8p

— Brianna ???????? (@Down_SouthBarb) June 30, 2018
OMFG IM A WINNER !!!! ???????????????? IVE NEVER WON ANYTHING #StudentOfTheGame

— YANNA✨ (@NickiAnaconda) June 29, 2018
OMFGGGGGFG SNDNDJDKDKDJDNDNJDNJDJDND NICKI IS PAYING MY LOANS!!!! YOOOOOOO I'M CRYINGGGG!!!!!!!! ????????????????

— Rye (@Classy_Barb) June 29, 2018
Considering the drama that has been following Minaj, this is great to see.