Octavia Spencer Explains How Going To See 'Proud Mary' Can Help End The Wage Gap For WOC In Hollywood
Spencer wants to point to the success of 'Proud Mary,' so execs can't say WOC don't open films.
January 12, 2018 at 7:15 pm
Octavia Spencer took to Instagram to lament the pay disparity women in Hollywood face.
Spencer specifically cited the recent news regarding Mark Wahlberg's pay during reshoots of All the Money in the World, compared to the pay his co-star, Michelle Williams, was offered. According to USA Today, Williams received less than $1,000 for doing reshoots of the film, while Wahlberg received $1.5 million.
The reshoots were done to expunge accused sex offender Kevin Spacey from the movie. Williams was made aware that her speedy cooperation was needed in order to complete refilming in time to release the movie on schedule.
"I am not mad at Wahlberg for asserting his worth and demanding to be paid for reshoots," Spencer wrote, "I'm upset with how the situation was presented to Michelle. She should have been given all the information to make an informed, not emotional decision."
Women in Hollywood have long faced a pay gap; as ABC News reports, in 2017, the highest paid actress made $40 million less than the highest paid actor.
Spencer not only pointed out that this gap exists, but that it is worse for women of color.
"We have to take a page out of [Wahlberg's] playbook of negotiating," she wrote. "And if we are really going to have the equal pay conversation, we have to discuss the gross disparity in pay for WOC. Producers and studios will always point to box office performance as if we have been given countless opportunities to lead films."
This led Spencer to highlight Taraji P. Henson's new action film, Proud Mary, a rare film headlined by a black actress. The film is out this weekend, and Spencer said that it provides an opportunity to prove studio executives wrong.
"Let's help her have a huge weekend so that the next time they say WOC don't open movies: we can point to #HiddenFigures #GirlsTrip and #ProudMary as recent debunkers. #knowOurWorth," she wrote.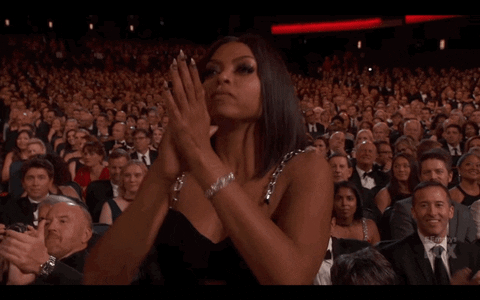 Proud Mary has been having a tough time in terms of marketing, with many Black Twitter users accusing Sony of setting up the film to fail by not offering enough showtimes. As New York Magazines reports, critics have also been upset that Sony has refused to screen the movie for them, leaving some to assume that it isn't very good.
One particular user, @ValerieComplex, summed up the frustration of many in a Twitter thread:
I gotta talk about the Marketing for Proud Mary because the only one that seems to care about the movie is Taraji. pic.twitter.com/EtyCbnbGp7— Vza V. Complex (@ValerieComplex) January 7, 2018
We've all known about the film for some time now but it seems Sony has dragged its feet. I just started seeing ads on Instagram and YouTube slightly before New Years even though the release date is Jan 12— Vza V. Complex (@ValerieComplex) January 7, 2018
This is the Instagram page. 18 pictures and less than 5k followed. https://t.co/0ieRGJBoGQ— Vza V. Complex (@ValerieComplex) January 7, 2018
@ProudMaryMovie has less than 3k followers.— Vza V. Complex (@ValerieComplex) January 7, 2018
How does this happen? I have never seen a studio less invested in their own property. "Oh, but studios release wack movies in January so maybe its bad"— Vza V. Complex (@ValerieComplex) January 7, 2018
Um studios release crap all year round but doesn't stop them from promoting it. Look at the Great Wall, Rings, Ghost in the Shell and a whole bunch of other shit from last year that had bomb marketing campaigns— Vza V. Complex (@ValerieComplex) January 7, 2018
There is no excuse acceptable for the way it's been marketed. And being apart of the target demographic and not getting notice about this is crap.— Vza V. Complex (@ValerieComplex) January 7, 2018
Friend just tried to buy advanced tickets to a Thursday show, that's not even available. Maybe it's too soon, but don't they start that a week in advance?— Vza V. Complex (@ValerieComplex) January 7, 2018
Who is going to answer for this?! I think I speak for many when I said we want answers. So what's up @SonyPictures— Vza V. Complex (@ValerieComplex) January 7, 2018
I saw the damn movie yesterday and it's a fun watch. Why the hell is the studio doing this to Taraji?— Vza V. Complex (@ValerieComplex) January 12, 2018
Sony rebuffed the idea that it is trying to bury Proud Mary. A spokesperson told New York Magazine, ""Not screening for critics happens regularly for Screen Gems films," and the magazine noted that a number of movies Sony had high hopes for, including The Covenant, Resident Evil: Retribution, Prom Night and Carrie, weren't screened for critics.
The spokesperson also argued, "There's a ton of promotion around the film. Awareness is at a high 92 percent. Taraji [is] all over doing publicity; she did eight talk shows in two days. Marketing is everywhere across all platforms."
Despite the controversy, Henson is staying positive. She thanked Spencer for her support on Instagram, writing, "I ADORE YOU!!," and posted that her hometown theater had sold out most of first day's screenings of the movie: