A popular TikToker alleges that an entertainment company has taken her sister and former collaborator Miranda Wilking Derrick hostage since January 2021.
According to the Twitter account (@msbigmilk), Miranda, a dancer based in Los Angeles, allegedly joined a religious cult and cut off her family and friends in the process. In the thread, the Twitter user shared a video that the dancer shared onto her TikTok account, letting her family and friends know that she is okay, despite not seeing them for over a year and her family's response.
this is the video that got me sucked in pic.twitter.com/ZEcz24zbek

— big milk (@msbigmilk) March 7, 2022
"This is Miranda Derrick—she is a dancer & her family says she is trapped in a cult in Los Angeles," the video stated. "She & her sister became famous through TikTok and Instagram dance videos."
Throughout the video, Miranda is seen dancing outside in an open field to Billy Joel's "My Life."
"All of this changed when she became with a church and her new husband B-dash," the video continued. "Her family says she walked away from everyone—family, friends, management & her whole life to live in a cult that produces dance videos via 7mFilms Management. After Miranda appeared on Ellen, her family went live to express their fears and concerns for Miranda."
The video then shows a clip from the live of Miranda's parents and sister, Melanie Wilking, talking about the cult.
"The church won't let people in or out. They don't have a website & only people invited can attend," the video said. "Miranda will not respond or contact her family. The church made her cut off all contact with everyone. All the videos she makes with dancers are alleged victims of the cult."
According to Gawker, the Michigan-born Wilking sisters began their careers on a shared YouTube channel. The sisters blew up on TikTok in 2020, gaining over 3 million followers with their sister-centric dances and bubbly demeanor.
Melanie and her parents allege in an Instagram Live that Miranda is being held hostage by an organization called 7M Films, an offshoot of a Pentecostal sect that believes in something called the Seven Mountain Mandate.
The official website of the organization only mentions that it is a film production company that "develops and produces content" and manages talent.
"7M Films, Inc. is a multifaceted organization with both a film production company that develops and produces content," the site reads. "and a talent management company that represents some of the top social media influencers in the world."
According to an Outline story, the Seven Mountain Mandate is based on the Bible verse Isaiah 2:2, from which "a group of self-proclaimed 'apostles' have a plan rooted in biblical prophecy to 'invade' every sphere of life as we know it." Followers of 7M believe that the key facets of life are education, religion, family, business, government, entertainment, and media; they think it is their responsibility to eliminate demons and witchcraft within those institutions.
Miranda took to her Instagram story in response to her family's allegations. She alleged that her sister Melanie "kicked [her] out of the 3.1 million followers TikTok account that [she] originally started and had Melanie join." She stopped speaking with her family because they called the cops on her Black then-boyfriend (now-husband) James Derrick when she moved in with him, not because 7M Films prohibited her from contacting them.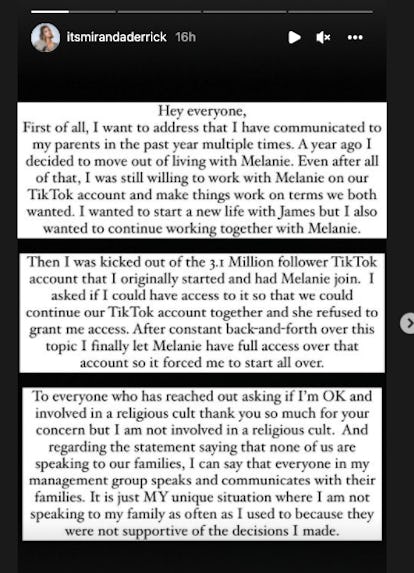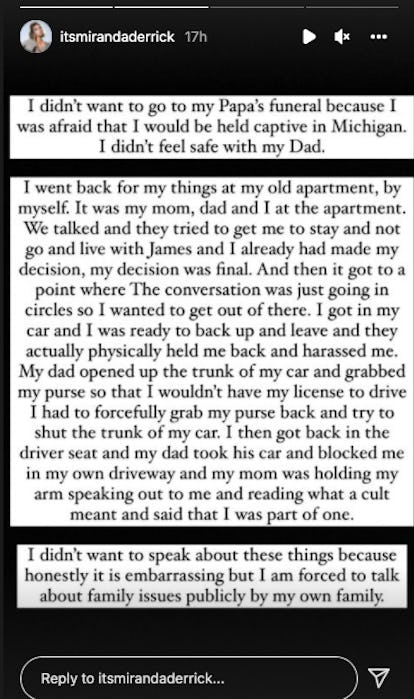 Miranda added, "I can speak for James and our friends who are in 7M that they DO speak to their families (so what you guys have heard about 7M dancers not speaking to their families is a complete lie). It's just a unique situation with my family…."
It is unclear if Miranda is a victim of a dangerous cult or if she just chose to separate herself from her family, but it has caught the attention of the world, and we will all be watching.