Solange was honored at the 70th Parsons Benefit in New York City on Monday night, because from her artistry to her personal sense of fashion, Solange has always embodied unmatched style.
Rapper Vince Staples presented Solange with the award, and said some very endearing things about the talented A Seat At The Table artist.
Watch @vincestaples present @solangeknowles as the @parsonsdesign @TheNewSchool honoree at the #ParsonsBenefit. pic.twitter.com/L3etRbgcUc— SAINT HERON (@SaintHeron) May 22, 2018
"This award is a small, small thing compared to her much larger accomplishments," said Staples. "When you look at her peers or just the people that follow her, she's one of those voices that we can say never really changed for anybody in this room."
Word! During Solange's award acceptance speech, she recalled the time she first realized dancing to the beat of her own drum was okay.
"I went back to Houston, Texas straight feelin' myself, walkin' into school with a little shoulder lean, head held high. And them hatin'-ass kids dragged me from one hallway to the next," Solange said according to Vanity Fair. "They asked if it was floodin' because my pants were so high-water. And I learned then and there that I had to figure out a way in life to maintain and preserve my sense of pride when I felt good about what I did or what I represented or created."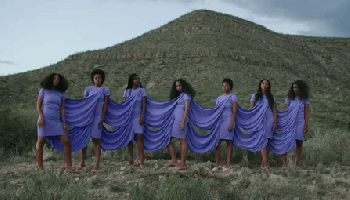 Solange also thanked the NYC design school on Twitter, following the ceremony.
The amount of gratitude I have in my heart right now is immeasurable!

Thank you
@TheNewSchool
@Parsonsdesign
for this incredible honor???????? it was one of the best nights of my life.
pic.twitter.com/yoMeJhuTMj
— solange knowles (@solangeknowles)
May 22, 2018
Following the ceremony, Solange celebrated in just the way Solange would. And we love her for it.
Goals AF.
Her entire post-ceremony Instagram was a whole and entire mood, in fact.
Solange invented celebrating!
Solange wins.