Opinion
Summerhill: How Cultural Ignorance Led To The Latest Example Of Crown Heights Gentrification
Insensitive establishments like this only glorify our poverty and violence for profit and aesthetics.
Photo credit:PHOTO: Eater NY
Crown Heights. Having only been a child during the 1990s and early 2000s, I still have vivid memories of the environment and the vibe of my neighborhood. An overwhelming majority of Caribbean immigrants, including my own parents, had settled in the area. We were surrounded by establishments that contributed greatly to our own cultural flourishing—fruits & vegetable stands, Indo-Caribbean garment shops, Afro-Caribbean places of worship, a slew of restaurants where you could find the best Caribbean delicacies and the like.
We weren't all family, but everything felt incredibly familiar. Most of my friends lived in the neighborhood, so walks to school became something to look forward to. We'd flood bodegas with money to purchase breakfast and/or lunch for the day, and proceeded to congregate in the schoolyard before the morning bell.
Crown Heights wasn't always the safest. I grew up at 745 Nostrand Avenue, which seemed to be inconveniently located where lots of fights broke out and people lost lives. Some were people I'd seen around the neighborhood, some were friends of my older siblings, and two in particular were blood relatives. The violence and crime in Crown Heights had never been nothing to glorify or boast about, however the character of my neighborhood quickly became something I had taken pride in nonetheless. Being there, and even moving away after a while, meant that I endured all of what I witnessed—the good, the bad and the fatal.
Like what you're reading?
Get more in your inbox.
Today, crime reports show that Crown Heights is by far "safer" than what it used to be. For example, on the corner of Nostrand and St. Johns, the corner of the block where I grew up, there was a reported stolen bicycle. Though counts of grand larceny and heavier crimes have been documented in the area, just looking at the landscape of Crown Heights somehow shows its increased commercial value, making it quite the commodity and all the more reason to protect it. Coffee shops, bookstores, bars and markets are now more commonly found along the Nostrand Avenue strip. As new members of the community enter, it should be expected that they, including business owners and visitors, understand and respect the presence of the people native to Crown Heights, but that isn't always the case. Enter Summerhill.
Becca Brennan, native of Toronto, CA, former attorney and owner of the "boozy sandwich shop" located at 637 Nostrand Avenue, sent out the above press release which hails the establishment as an oasis. However, deeming it "Instagrammable" while advertising one of their cocktails in front of a strategically-placed wall of bullet holes is the exact kind of insensitivity gentrifiers bring to communities like Crown Heights.
Since the release had been published, tons of people began speaking out against this huge example of disconnection between gentrifiers and the communities they inhabit. Brennan reportedly passed up on the opportunity to speak and provide an explanation to residents and others in support of an open forum/protest outside the location on Saturday, July 22nd. Pushing alleged rumors of a "backroom illegal gun shop" is also found in the press release, further perpetuating the very violent image Crown Heights had been plagued with.
And let's be clear, race plays a very big and obvious issue in this ordeal.
Some can counter argue that elements of black culture, including hip-hop music and fashion, have played a great deal in the "perpetuation" of violence in the black community, to which I'd say our history and stories should indeed only be recalled and told by us. It reads as a complete detachment from reality when a white woman opens up a business in a predominantly black neighborhood, reformed by a system which benefits her greatly, and parades elements of turmoil and strife because it's cool enough to post on Instagram.
Beyond that, her conscious decision to not speak directly to a crowd of concerned community members proves that not only is she aware of how bullet holes and rumored gun shots can negate the community's growth, she more than likely does not care.
A statement was passed around at Saturday's protest, and later added to Summerhill's official Instagram page.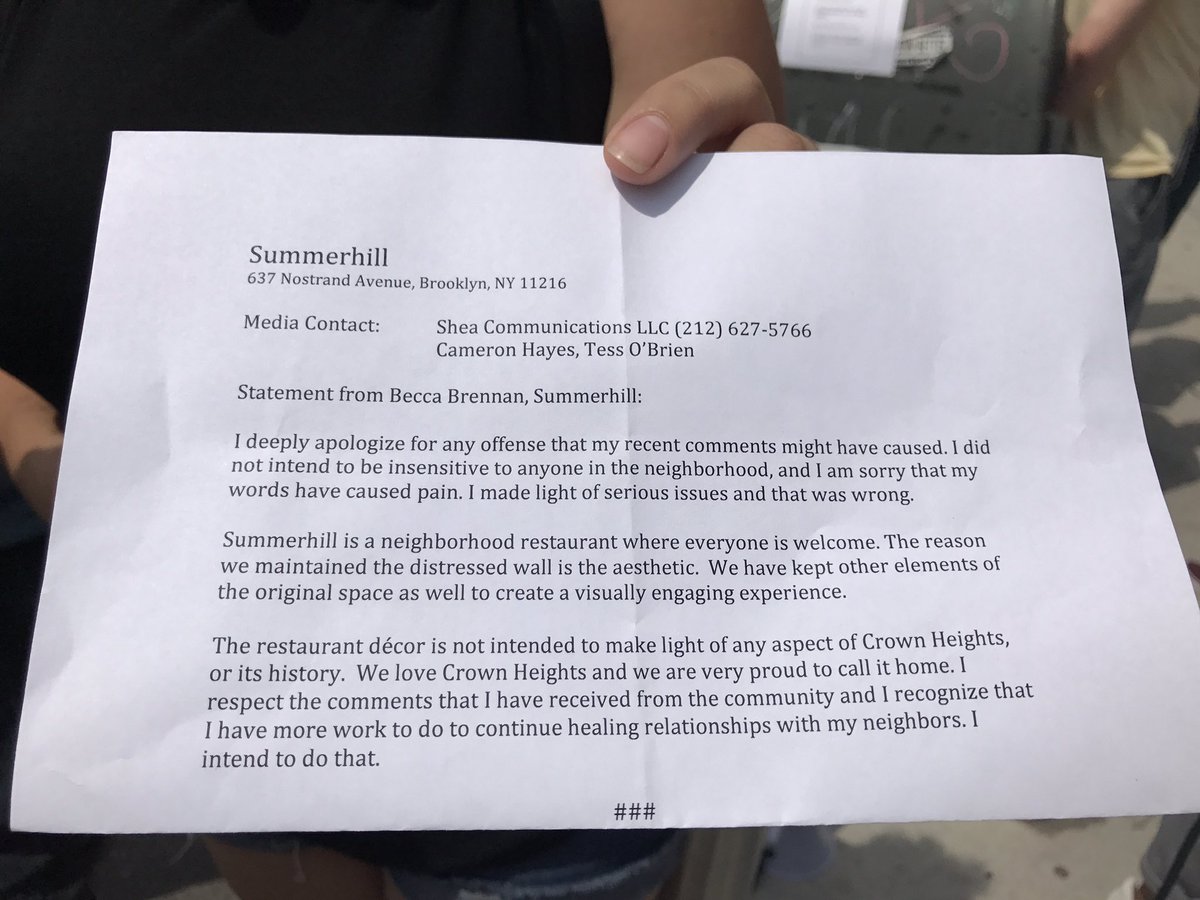 In it, the owner expresses her apologies for the fact that she "made light of serious issues." Then she mentions reaching out to the Crown Heights Tenant Union to set up a meeting to further discuss any concerns that were brought up.
The opportunity to engage with community members should have quite honestly been Becca's primary choice. There is no large corporation, no hefty staff count, no reason for any of Becca's sentiments to be poured out on paper when community engagement is quite literally what builds communities. But I digress. As much as it seems like an opportunity more so to save face than take action, this is a step in the right direction.
There are ways to commemorate the growth of a neighborhood, and in my honest opinion, it should only be done by those from the neighborhood. Acts like this only glorify our poverty and violence, for profit and aesthetics, with no cultural connections to our origins whatsoever.
So, to Becca Brennan, I and others paying close attention to the development of this story, urge you to practice awareness. Understand that putting Crown Heights' crime violence on display where you welcome us is not endearing, it's ignorant. Cohabitation is possible, and it is encouraged even, but make sure you're working hard to earn your stay here.
---
Sponsored Content
How Interior Designer Ajia Monet Was Able To Defy The Odds And Create A Successful Business Out Of Her Passion