Hair styling has never really been a "just hair" issue for black women. Whether rocking it in the professional world or during a protest, afros, locs and braids have long served both as a means of personal, religious and sociopolitical expression.
The U.S. military has had strict dress and grooming codes in place. But, as more and more black women have joined the armed forces, the issue of hair became more complicated. Many soldiers lobbied for the right to wear their hair in varied styles.
According to the Marine Corps Times, the U.S. Marines became the first branch to allow locs and twists, starting the policy in December 2015. According to News One, the U.S. Army followed suit in January 2017.
Now, according to The Associated Press, the U.S. Navy is joining the hairstyle movement and will allow locs, rope-like strands (such as braids or twists), wider hair buns and ponytails to be worn by its female servicemembers.
"Because of the texture of my hair, it stood straight up," recalled Captain Thurraya Kent, who was forced to remove her braids under the old policy. "It was a very embarrassing moment that stays with you."
Kent served as the senior member of the group who recommended the policy update.
Chief of Naval Operations Admiral John Richardson and Yeoman First Class LaToya Jones announced the new policy during a Facebook Live event on Tuesday, July 10. Other black servicewomen in the recommendation group joined, as well, per One America News Network.
"It's my honor to announce that CNO [Chief of Naval Operations] and CNP [Chief of Naval Personnel] have announced the following recommendations: loc hairstyles will be authorized, hair bun width will be authorized to be equal to the width of the back of the head, ponytails will be authorized in all service, working and PT uniforms," Jones noted proudly.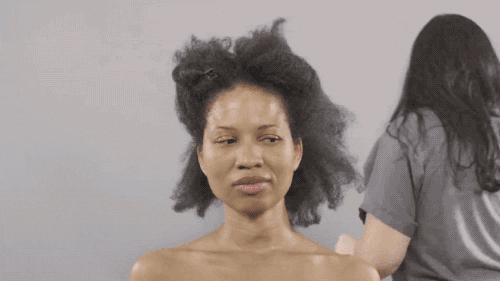 "I think it's a step forward," noted Lieutenant Commander Jess Cameron. "They're getting more female feedback in the service, and updating what I think are somewhat antiquated guidelines that maybe no longer serve their purpose in today's society, today's military."
Now, check these out:
Find Out What The U.S. Army Is Changing About Its Natural Hair Regulations
The Evergreen Legacy Of The Tignon: How The Policing Of Black Hair Has Continued Centuries Later