These Are The Rappers Who Contributed To Childish Gambino's 'This Is America'
Yeah, yeah, yeah, yeah, yeah!
Need a reason to watch Childish Gambino's "This Is America" music video another thousand times?
Here's one for you: the ad-libs.
Along with dissecting the videos' visuals, many fans delved into the audio as well. People thought they could hear ad-libs by the likes of Kendrick Lamar, Vic Mensa and Chance the Rapper. Some even thought they heard Kanye West, who would have been an extra interesting addition considering many are coming to see Gambino as a woke alternative to West.
According to Complex, Tidal's liner notes confirm the additional artists with actual credits in the song: Young Thug, 21 Savage, Quavo, Slim Jxmmi and BlocBoy JB. The latter popularized the "Shoot" dance Gambino performs in the video, when surrounded by the school kids.
Complex broke down when and where you can hear the ad-libs and who is likely performing them.
At the 2:43 mark, the magazine believes Young Thug is heard saying "America, I just checked my following list […] You motherf**kers owe me" in the outro. He also seems to be the voice behind the "woo" and "ay" in the chorus.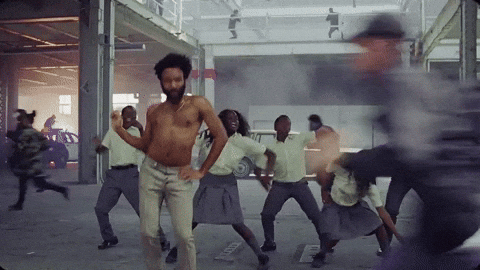 BlockBoy's "word" is heard in the first verse at the 1:16 mark and 21 Savage says "straight up" at 1:35.
The "yeah, yeah" at 2:02 is Jxmmi. Quavo throws in a "blaow" at 2:40.
And now that you have the ad-lib breakdown, you might as well get into your millionth listen: