These Women Created The Ultimate Card Game For Hip-Hop Heads
University of Dope takes heads to school.
September 26, 2017 at 2:02 am
Can you name all members of The Wu Tang Clan?
This is one of the many questions players are asked in University of Dope, a card game that celebrates hip-hop culture. Created by Marian "Skinni Bee" Andoh and A.V. "$upreme" Perkins, University of Dope is designed for urban millennials who truly recognize the Golden Age of Hip-Hop.
The birth of this game came from the love of hip-hop, but hip-hop is to thank for the two creatives meeting themselves! Andoh and Perkins met while on the hip hop dance team at Central Connecticut State University.
"[Marian and I] met in college, were on the hip hop dance team together, and have debated rap since the day we met. An evening at dinner in one of our favorite restaurants I asked Marian 'Can you name all the members of Wu Tang?' She said, 'Yes!,'" Perkins told Blavity. "Then I asked, 'Ok, could you name all of them if you were drunk?' This is literally the inspiration for our game. We went googling for a Wu Tang drinking game, and it didn't exist so ..."
Brilliant! So, how do you play?
Per University of Dope's press release, the game "requires a minimum of three and a maximum of six people to play."
The game consists of cards featuring a series of hip-hop related questions. Most correct answers are worth five points; in some rounds players have to vote on who gave the best answer.
The creators also have created "a drinking game also known as 'Thug Life'" to go along with the normal game.
The first player to get 50 points wins the game.
Sign us up!
Oh, and you know we had to ask the dope co-founding pair the ever-important question: Who are your top five rappers?
"Biggie, Nas, Kendrick, JAY-Z and J.Cole," said Andoh, who noted her list order depends on her mood.
As for Perkins?
"Dylan, Dylan, Dylan, Dylan, Dylan," she said.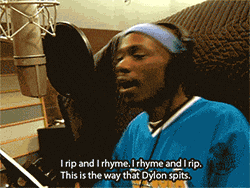 Perkins, however, does have a differe G.O.A.T. in her head. "Ultimately B.I.G is my favorite," she concluded.
Make sure you cop your game and other super dope merch at the University of Dope website! You can follow them on Facebook, Twitter, Instagram and Pinterest at @UDopeEdu.
So ... who's inviting us to their next card game?!