Black girl excellence in poetry reigns once again!
Meet Patricia Frazier, a 19-year-old poet who recently became Chicago's first National Youth Poet Laureate, Chicago Magazine reports. Frazier is the second-ever National Youth Poet Laureate, serving after Amanda Gorman. The National Youth Poet Laureate honor was founded in 2008 by Urban Word in partnership with the New York City Mayor's Office and NYC Votes.
"Patricia's poetry is really phenomenal," Michael Cirelli, Executive Director of Urban Word, said. "The judges were impressed with the quality of her craft, but they also considered her commitment to social justice and youth development."
Receiving this honor, and for these reasons, puts Frazier in good company. Her path is reminiscent of another Chicago poet, Gwendolyn Brooks, who became Chicago's first United States Poet Laureate 30 years ago.
"I was shocked," the Columbia College Chicago second-year student said. "I cried. And then I gave a really bad speech." LOL! Ok, we love her, already.
"It's surreal, but I attribute a lot of it to my mentors who have helped me edit my sh*tty poems until they weren't sh*tty anymore," said Frazier of her newest honor. "People like José Olivarez, Kevin Coval and Jamila Woods. I think about it not so much as a win for myself, but as a win for Chicago. This award belongs to all of us."
The young poet also cites Chimamanda Ngozi Adichie as a poetry inspiration. And of course there's Gwendolyn Brooks, Nikki Giovanni and Zora Neale Hurston.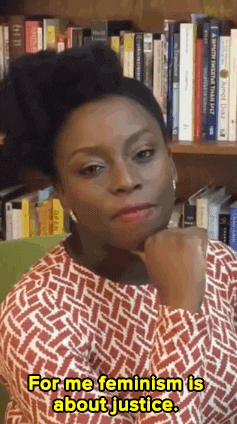 Place is important to Frazier as well.
Frazier lived in the Ida B. Wells housing projects in the city's Bronzeville neighborhood from 1998 to 2009, until the mass public housing demolitions conducted by the Daley administration forced her family to relocate to Englewood.
"Normally when people want to go back to where they're from, they can go back to a house, or a specific place like a store or building where they spent their childhood," said Frazier. "I can't. There are no buildings I can go back to."
In part because of this personal history, Frazier wants her poems to "act as a landmark or a monument."
Frazier is definitely very active her in her community (she does work with Assata's Daughters!) and spoke about her passion for literacy.
"I'm super positive about literacy, and I understand that being able to read is a privilege," she said. "We talk about youth from my neighborhood who don't 'enjoy reading,' but it's not that they don't enjoy reading, it's that there aren't that many stories they can relate to. So I definitely want to get out into neighborhoods and do workshops, especially in places where [programs like] Young Chicago Authors aren't as accessible."
If you're now eager to read Frazier's work for yourself, you're in luck: she recently finished a book entitled, Graphite, which is set to be released in September.