T.I. Gave A Brutally Honest Response To A White Fan Who Called Colin Kaepernick A Joke And We Doubt They'll Do That Again
He tried the "if you don't like it here, then just leave" approach, and T.I. clapped back with some hard history.
You come for King Kaepernick, you best not miss. A white fan of T.I.'s decided the rapper's Instagram comment section was the best place to complain about Kaepernick, and he was sorely mistaken.
The comment arose after T.I. posted a screenshot regarding Colin Kaepernick's collusion case and the possible Trump subpoena plot twist.
"Colin Kaepernick is a joke," Instagram user buddygreen2323 wrote in the comment section. "If you don't like this country feel free to leave."
NOPE. T.I. was like, slow yo' roll!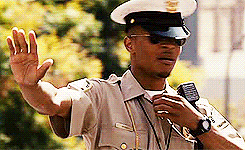 "B**ch y'all brought us over here after y'all raped, stole, cheated and tricked the true native out of their land!" T.I. replied. "So the real statement is … if you didn't want us here you should have left those of us from Africa where [we] was at and built this sh** your damned selves! No mo talk!!!"
SAY THAT, TIP!
He tried it. And failed.
BLOOP.