The Cardi B/Nicki Minaj beef came to a head during a New York Fashion Week after party when the war of words turned physical. Soon after, Cardi wrote an iOS Notes app statement expressing how fed up she was with the beef. In that statement, she accused Nicki of trying to disrupt her cash flow.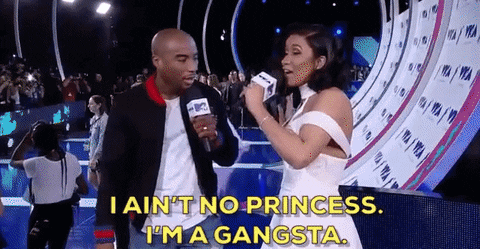 As the fashion world moved on to its European fashion weeks, Twitter decided to take Cardi's accusation and turn it into a meme with #NickiStoppedMyBag. The hashtag
quickly became
a trending topic, as Capital Xtra reports, and was used by Twitter users to explain why things in their lives weren't going as planned.
@NICKIMINAJ Said, I'll Take All The Bags Thank YOU!!!"???????????????????????????? #NickiStoppedMyBag
pic.twitter.com/4MGEhB1Ebz

— SicWitIt (@taddymamas) September 26, 2018
I was gonna go to work but #NickiStoppedMyBag

— T'Challa (@riploverboy) September 25, 2018
My phone bill was due today and I could only pay a quarter of it. I know Nicki stuck her greedy hand in my wallet????‍♀️#NickiStoppedMyBag
pic.twitter.com/FBLaBOaOMk

— Bloop !! (@ChocoMilke1) September 25, 2018
#NickiStoppedMyBag My phone was on the charger all night but was dead when I woke up. @NICKIMINAJ stay blocking my blessings. ????

— MALONEY (@_M_A_L_O_N_E_Y_) September 26, 2018
Went to register to vote & they told me I had to be a US citizen ????#NickiStoppedMyBag
pic.twitter.com/MFviRUEb89

— Playboy ???????? (@niptuckedonyou) September 26, 2018
Nicki to all the bags in the world #NickiStoppedMyBag
pic.twitter.com/6tgg9A0Vcd

— AJA (@ajaqueen) September 26, 2018
I wrote a paper and saved it on my flash drive. When I tried to open it again, it was deleted. Nicki must've hacked into the flash drive & really stopped my bag. #NickiStoppedMyBag

— WILLOW MINAJ (@_NickiIsMyQueen) September 26, 2018
Me: Hello, Police? Nicki Minaj just ran away with all of my bags! I am bagless! #NickiStoppedMyBag
pic.twitter.com/mIPKRF4STu

— SYMPATHY AND PAYOLA (@onikaabarbie) September 26, 2018
While Cardi didn't join in on the meme, she did speak out about how the fight affected her social media presence. Some outlets reported celebrities began to unfollow the "Boday Yellow" rapper following the altercation, but Cardi said those reports were incorrect, according to Refinery 29.
"Those celebrities wasn't even following me," the "I Like It" artist said.
Cardi also refuted claims the beef has hurt her career.
"Ya'll will see when my time is," the rapper said. "My numbers will be going down. I'm not going to be on the charts. People will stop f**king with me."
Cardi B talks about people saying she's "over" after her #NYFW brawl. pic.twitter.com/dPPtQUICkF

— Pop Crave (@PopCrave) September 26, 2018
According to Buzzfeed, the beef may heating up again, as both rappers have been posting what appear to be thinly veiled shots at one another on their respective social media accounts of late.
Stop finding excuses for my success .I am love and i make hits .GIRLS LIKE YOU !!!!!!! GIRLS LIKE ME ! Ain't @milliebobbybrown sooooo bute ?❤️????MILLIE B

Chile people crack me up. (I forgot to say this after I saw more lies the other day). #QueenRadio has broken Apple's records on EVERY. SINGLE. EPISODE. Every. Single. Episode. ????So thankful to you guys for tuning in. I have so much fun. The next episode will be VITAL. trust. ♥️

— QUEEN (@NICKIMINAJ) September 26, 2018
Liking this content? Check these out:
Nicki Minaj Dives Into Cardi B Ordeal, Bizarrely Accuses Fellow Rapper Of Cultural Appropriation
Kelly Rowland Speaks Out After Witnessing The Nicki Minaj, Cardi B Drama Go Down At Fashion Week
Cardi B And Nicki Minaj: Two Black Titans Who Could Be Even More Powerful By Supporting Each Other