This weekend, all eyes were on the fastest man alive as he prepared to run in his final races.
With a disappointing turn in the 100 meter at this year's World Championships (Bolt took third), fans hoped that he'd grab gold one more time before running off into the sunset.
But it wasn't to be.
The Independent reports that during the 4×100 meter, with Bolt playing the anchor for the Jamaican team, things went very wrong.
Not long after taking the baton, Bolt collapsed, his left hamstring injured.
Although Bolt had nothing but apologies to his team, his teammates blamed organizers for causing Bolt's injury.
According to a separate report from The Independent, the men's 4×100 meter was delayed due to the women's high jump running over its scheduled time. This led to Bolt's final race beginning nearly 45 minutes after he'd begun to warming up.
"I think they were holding us too long in the call room," Yohan Blake of the Jamaican team said. "The walk was too long. Usain was really cold. In fact Usain said to me, 'Yohan, I think this is crazy'."
"It was unusual. I knew I had to stay warm," Bolt added. "Then we got into second call room to stride out which was fine. But we were taken to the area behind the boarding to be ready to run, but we waited there for 10 to 15 minutes."
Though Bolt was clearly in pain, he refused to receive aid and refused a wheelchair. He got up from where he'd fallen, and finished his race, limping across the finish line.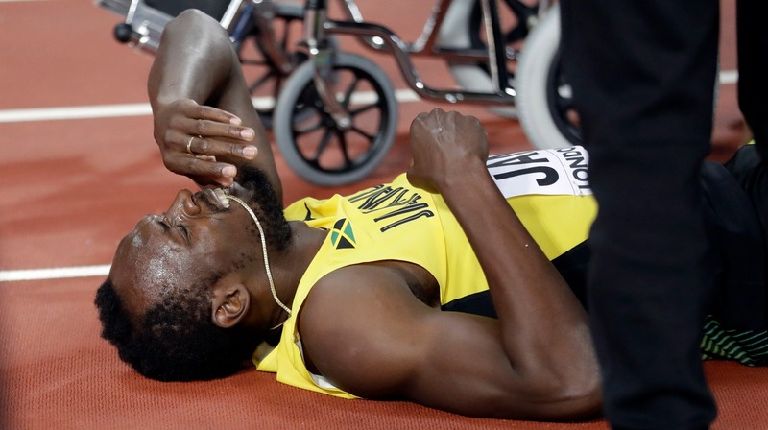 "After the injury, I pretty much tried to get home quickly to treat it," Bolt said. "I stayed up for a while texting people who were concerned what was going on. I woke up and was getting treatment this morning. I will see what it is tomorrow [Monday] to see if it is worse than I think it is."
This race was the last of Bolt's track career. However, because this incident pushed Jamaica to the bronze medal spot, some speculated that Bolt would return to reclaim gold.
"For me, I don't think one championship is going to change what I've done," said Bolt. "I remember after losing the 100 m someone said to me, 'Usain, don't worry, Muhammad Ali, lost his last fight also, so don't be stressed about that'. And for me, I've proven myself year in, year out, throughout my whole career. I don't think one championship or one race, or the fact I didn't end my last race, is going to change the fact of what I've done in the sport."
In fact, Bolt seemed to suggest that he would have exited earlier if it were up to him.
"My fans wanted to see me compete for one more year," Bolt explained. "Without them, I wouldn't have accomplished everything over the years. If I could come out here and give the fans a show, that's fine with me. That's all I wanted."