The Black Panther hype train is still chugging along with fierceness, and the cast is surely adding steam through their film's promo spots and other behind-the-scenes footage. The chemistry is very apparent between this cast and they obviously have fun with each other.
A week ago, the film's stars Lupita Nyong'o and Letitia Wright showcased their love for free styling by sharing a video of them dropping bars in the backseat of a car. Now, it looks like they shared that love with the Black Panther crew because on Friday, Nyong'o dropped a two-part tweet with a video showing a full-blown cypher happening on the set of the film.
In the video, Letitia Wright is in the center dropping bars, with Winston Duke providing the beat while Danai Gurira and Angela Bassett served as the hype squad.
Y'all hear these bars, though?! Also, gotta love the name "MC Baby Underbite," and the fact that it's connected to Ruth Carter's beautifully designed ritual costume for Shuri.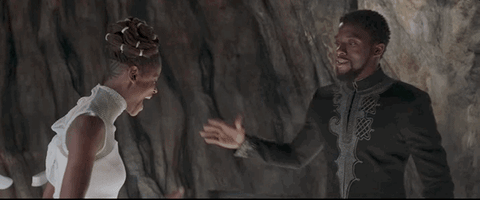 You gotta love the Black Panther crew both onscreen and off.