Let me preface this article by saying that I'm a true '80s baby — born in 1986, grew up in the '90s, went to college in the 2000s and now living my best adult life in the 2010s. I was reared and raised on the classics from Motown hits like "Please Mr. Postman" by the Marvelettes, to the label's entire body of work and the collector's item that is My Life, by Mary J. Blige. So, yes, part of this article is me shaking my proverbial finger at these children born after 1990.
Were you people raised by wolves? Did your mother's not clean the house and cook while listening to the angelic tunes of Anita Baker? Did your father not play the Boyz II Men II album?
I grew up buying new albums and surveying each song in hopes of finding a new slow jam. I would take my boom box and record all my favorite slow jams and smooth grooves to make my very own mixtapes. Eventually technology advanced and I would burn my own CD mixtapes to sell to my friends at school. This skill later led to a short-lived, yet fruitful, DJ stint. I stopped because of all the club requests since that just wasn't my scene. I have never been able to hang with you young hip-hoppers. Clearly, the streets need R&B back.
Recently I attended an event called "R&B Only." I missed it in my hometown, Detroit, and opted to go in Chicago. Naturally, I expected to enjoy a romantic evening of R&B music with my boo. Wrong.
It was nothing more than another party. What upset me is that they branded it under the premise of my precious R&B music only being played, hence the name, when it was more like a sprinkle and dabble of R&B.
At one point the host surveyed the crowd for '80s babies getting a lackluster applause. Oh, but when he asked, "Where the 90s babies at?," the crowd went wild. Therein lies the problem.
The host went on to say that the next song was probably the jam that more than half the room lost their virginity to. Here I am thinking it was going to be something along the lines of "Love" by Musiq Soulchild. Wrong again. The DJ, who was all of 12, played "I Invented Sex" by Trey Songz.
W-T-F? What type of brazen individual loses their virginity to a song that says, "girl you gon think I invented sex"? If that was your experience, I feel sorry for you. Also, that song came out in 2009, I was out of college with a child by then. Jesus fix it!
They went on to play one million Drake songs, Plies, Jeremih, Migos, Pretty Ricky standards, T-Pain, Black Youngsta (who TF is that?) and other top 40 randomness that I didn't care to hear. The host would take the time to speak on how important the genre of R&B is and how he wants everyone to appreciate it. How can you be pontificating about how important R&B is, then play a Chief Keef song? Was it because we were in Chicago? Have you never heard of the Chi-Lites? Earth, Wind & Fire? Legends like this are indeed the reasons that we're here. Where is the homage? If you couldn't pay tribute that far back, you certainly could've given us some Jennifer Hudson, some old Kanye, hell, I would've taken Day 26 (the member Willie is from Chicago).
There was little to no '90s R&B played at this event, with the exception of two Aaliyah songs and "Poison" by Bel Biv Devoe. They missed Boyz II Men, Sade, Maxwell, 112, Mint Condition, Babyface, Toni Braxton, New Edition, Tamia and a host of other R&B staples. Hell, they didn't even play K. Michelle or Keyshia Cole. How you have an R&B party and play no Michael Jackson?! We could've gotten a few minutes of "You Rock My World."
We all love a good swag-surf, but at an R&B party?
The '90s was arguably one of the most iconic periods for R&B music. How did we miss that entire era?
They even played that pint-sized Jacquees. You know, the one who had the unmitigated gall to call himself the 2015 Wanya. Kind sir, you could never hang with the likes of Wanya Morris from Boyz II Men, vocally or career-wise. The audacity. Then you want to "cover" Ella Mai's song because "Imma rain on b!tch" is getting you nowhere. TUH!
R&B Only vexed my entire spirit.
The reason Ella Mai can be beebeedadu "Boo'd Up" is because it sounds like New Jack Swing. She collabs with likes of John Legend and HER on her new album, she sampled "T-shirt & My Panties On" and her harmonies are reminiscent of Boyz II Men. This is why she's so successful in 2018. This is what music needs right now! The same for artists like Daniel Caeser, BJ the Chicago Kid, The Internet, Nao, Kevin Ross, Amber Mark and many more. It's sad that I have to scour the music scene for quality music because all y'all want to do is come through drippin'.
R&B is supposed to rhythm and blues. Many of these new-age artists have overdone the rhythm, removed the blues and added the casualty of their oversexed lives to be the man component of their music, missing the key element: love. There's no emotion, just a bunch of freakin' on the weekend fueling these twerking 20 year-olds. No wonder they're confused.
Where's the romance? Where's the courtship? Is chivalry still a thing? If you're going to have an R&B only party, you need to seriously think about the music that is being played and the message you are trying to send. People born in the '90s and 2000s need a lesson in what real R&B is. They didn't get to experience it like us '80s babies did.
You have to tell the story. You can't leave pieces out and you can't rely on too much of the music that's out right now to set an example, let alone be innovative enough to be remembered in the next 30-50 years. I know I damn sure won't be thinking about "I Invented Sex" by Trey Songz when I'm old and want to hear something that makes me remember a time in life that I'm fond of.
My suggestion to the peeps who organize this event is to find you some friends who were born at a time when R&B was real to curate your playlist. There are plenty of opportunities to turn-up, but not enough curated events that leave you walking away feeling something. That's what R&B does, it causes you to feel, to get in touch with your emotions.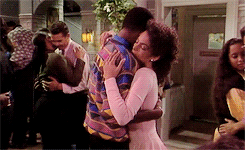 That's what I expected from this type of event. Instead, I walked away disgruntled because I wasted my hard earned money, and hopeless because these gen z people have no real understanding of quality music. The concept is amazing, but the execution left R&B to be desired. It was damn near false advertisement. I feel like that's what R&B is these days, with the exception of aforementioned artists.
Now, I will say that I do enjoy some Cardi B, Lil Wayne, DJ Khaled and all the rest of them from time to time, but with the constant radio play, it can be exhausting to my 32-year mind. We go to R&B for relief, relaxation, feeling and healing. I need this generation to understand that and put some respect on it. I know it's cute to sing over a trap beat these days, but let's not forget all the important work that has paved the way. There's iconic real R&B music that set a standard which has become a lost art.
To the talented artists of today trying to get back to the vibes of yesteryear, I believe in you. Godspeed.