Hey, my babies. If you're a connoisseur of talk shows or simply pay attention to social media, you've probably heard about Mo'Nique's latest interviews. The comedienne has been let us know that although she loves us for real, she also has time today and all 2018 apparently.
This week, she stopped by Power 105.1'sThe Breakfast Club and The View. While on air with DJ Envy, Angela Yee, and Charlamagne Tha God, Mo'Nique did not hesitate to call Charlamagne out (by his government name of "Lenard" no less) for his choice to make her "Donkey of the Day" — a segment of the show in which he basically puts those who do something dumb or embarrassing on blast. It was obviously one accolade that the decorated comedienne didn't believe she deserved.
Lmao Mo'Nique wants to know why she was called Donkey Of The Day and keeps calling Charlemagne by his government name. pic.twitter.com/Kn8gZqoIv1

— Afro-LightskinO. (@itsKARY_) February 22, 2018
"Is your mother still alive?" Mo'Nique asks Lenard. "If I was to call your mother or your grandmother could they tell me stories of inequality they had to deal with?"
"Absolutely," Lenard answers.
"So would your mother be a donkey? Would your grandmother be a donkey?" Mo'Nique then asks.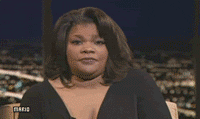 You better believe Mo'Nique's shaking of the table did not go unnoticed.
monique:

1. talked to that man in that hushed whisper.
2. called him "lenard."
3. TWICE.
4. concluded her point by calling him "brother."
tore those pages DIRECTLY out of the Condescension Handbook.
lol.
i am inspired.
— fooler initiative (@metroadlib) February 23, 2018
LAWD Charlemagne aka Leonard was not READY for his interview with Monique. That was the most informed READ ever. Classic. I wonder if they'll post this interview.

— Ayesha K. Faines✒️ (@ayeshakfaines) February 23, 2018
Listening to Monique gather Charlemagne so eloquently made my morning.

— Amyre Renese (@___amyreeee) February 23, 2018
Monique reminds me of that GrandMother that you never want to visit after church on SUNDAYS #THEBREAKFASTCLUB

— Poseidon (@KrisTuckher) February 23, 2018
She got Lenard right on together pic.twitter.com/ikKJzM0SQj

— K Lewis (@ItsmeKarlicia) February 23, 2018
Mo'Nique also headed over to The View where she made things very clear to Whoopi Goldberg who tried to challenge her notion that she shouldn't have to promote a movie for free. Mo'Nique blames Tyler Perry, Oprah Winfrey and Lee Daniels for punishing her for not doing press for 2009's Precious resulting in her alleged "difficult" reputation. She also compares the experience to women who chose not to "go up to the hotel room," which is a reference to the Me Too movement and women being assaulted by Hollywood execs.
Monique and Whoopi get into it on the View pic.twitter.com/nZLTdjuQx7

— FREEISH (@freeishmedia) February 22, 2018
"I'm going to stop you because contractually, when you make a movie, regardless of who you sign the deal with, your job is to go and promote said movie," Whoopi said. "And we've had this conversation and I said if you had called me I could've schooled you on what was expected."
"And we did have that conversation and what I said to you my sweet sister, I said, 'Whoopi, at what point do we stop saying the next time?'" Mo'Nique quickly answers. "If I had done something wrong contractually, they would've sued me,"
She continues, "The reason why no one could do anything to me contractually because they found out I did nothing wrong contractually. So, when they asked me to come overseas to promote the film — when I said, 'Guys, I'm spending time with my family, I'm going to pass.' When I make the statement, 'This is what happens when you don't go to the room.' What Tyler Perry showed me, Lee Daniels, Oprah Winfrey and Lionsgate, when you don't do what we ask you to do, we'll take your livelihood. So for eight years, my family has suffered, my career has suffered because what I would not allow those entities to do was bully me."
Monique has been casually going around and collecting each of the celebrities who came at her neck one by one in the classiest, most "bitch you got the right one" way ever and I'm here for it. https://t.co/hlQTePMq2I

— Maya Angelique (@MayaAMonroe) February 22, 2018
Kevin Hart literally told movie companies that they have to pay him to promote movies on his platforms and everybody was rocking with Kev, I see no difference in this situation and I don't understand why Mo is catching hell for it

— November's Very Own (@youlovedalvie) February 23, 2018
The crazy thing is a couple of years ago KEVIN HART said the exact same thing and the internet was all for it!!

— The Melanin Godmother (@Danaforfvcksake) February 22, 2018
I can't believe people are STILL ridiculing Monique for for standing her rightful ground on the the whole Precious/Lee Daniels/Oprah/Tyler Perry situation.
Like why tf she should of worked for free, relationships or not. Press tours are physically, mentally & financially draining

— SG ✊???? (@Shaadene) February 23, 2018
Despite the exchange of words, there seems to be no love lost between the two.
Regardless if you care for Mo'Nique or not, do you think she has a point? Is the underlying message of her madness being lost? Or is she doing too much?
One thing's for sure, the woman knows how to eloquently read someone.