You Must Watch Jessica Williams' Powerful Speech From Sundance's Women's March
The 'Daily Show' alumna dropped knowledge before dropping the mic at this weekend's historic march.
January 23, 2017 at 9:14 pm
It all started with a relatable, yet resonating anecdote.
Daily Show alumna and writer Jessica Williams joined millions of women across the world Saturday when she appeared at the Women's March to raise awareness for women's rights and intersectionality. It was at the event in Seattle that Williams delivered what some are calling an emotional and timely sermon to the marchers. She recalled a moment in her upbringing when, during a parent-teacher conference, her mother was alerted of her daughter's lack of assignment completion.
That story powered what many are calling one of the best speeches from last Saturday's historic worldwide event.
You must watch a fiery Jessica Williams talking about the lesson her mom taught her at the #sundance #womensmarch. Truly incredible. pic.twitter.com/KfysBmTcCe

— Kyle Buchanan (@kylebuchanan) January 21, 2017
"I am my ancestors' dream," Williams proudly proclaims, wearing the signature pink beanie that unified the masses at every march. Though she didn't "expect" to go in as deep as she did during her time at the podium, her words seemed to shed some light on the struggle of the black woman who, oftentimes, has her narrative covered or disregarded within the feminist movement. Never one to mince words, Williams did the community quite a service. Her speech is a lesson that many know all too well, a lesson that continues to transcend generations.
"I am my ancestors' dream" - Jessica Williams at #WomensMarch #Sundance pic.twitter.com/kh6JkWuSLc

— Kyle Buchanan (@kylebuchanan) January 21, 2017
It was every bit of magic as one would expect.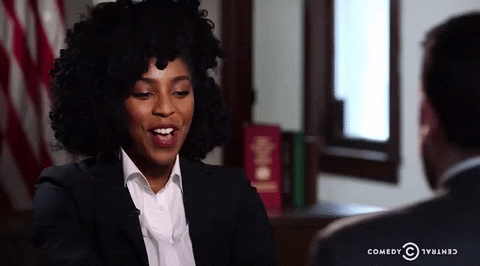 Photo: Giphy
Read the transcript of her speech here.