10 essential holiday movies from our childhood
Because Christmas is truly magical in the eyes of children
Christmas is a holiday for all ages but there is something magical about celebrating Christmas as a child. One of our favorite parts of the holiday season growing up besides decorating the tree and taking pictures with Santa was gathering with the family with some hot cocoa to enjoy our favorite holiday films. These 12 movies are reminders of the Christmas magic that we loved during our childhood and continue to enjoy them today.
1. Home Alone (1990)
Photo: dvdsreleasedates.com
Although the sequel tends to be a personal favorite for many, the original Home Alone was the ultimate Christmas story. As the McCallister family prepare to leave for their trip to Paris, they forget one thing, Kevin. Kevin wakes up in an empty home which automatically means freedom! But with freedom comes responsibility, a major one being to protect his home from robber, Harry and Marv. This movie is filled with hilarious pranks and feel good moments.
2. The Santa Clause (1994)
Photo: moviepostershop.com
Charlie lucked up and got the life that kids around the world would be envious–having Santa Clause for a dad. Scott, played by Tim Allen, confronts and startles a man on his roof who happened to be Santa Clause. Charlie convinces his dad to put on the suit and finish Santa's work by delivering toys to the kids before Christmas morning. Head elf Bernard reassures Scott that he accepted the role as Santa when he put on the suit and entered the sleigh. The rest is history. A small part of us is jealous of Charlie having an all access pass to the North Pole whenever he wanted.
3. A Christmas Story (1983)
Photo: Wikipedia
Thanks to TBS, we are blessed with a 24-hour marathon of this movie from Christmas Eve until Christmas night. A nine-year-old Ralphie, played by Peter Billingsley, wanted for Christmas was a Red Ryder Carbine Action air rifle for Christmas until Santa shut down his dreams with the classic one-liner, "You'll shoot your eye out kid!" From the knee high lamp to the tongue stuck on the pole due to a triple dog dare you, this movie is filled with gems
4. Dr. Seuss' How the Grinch Stole Christmas (2000)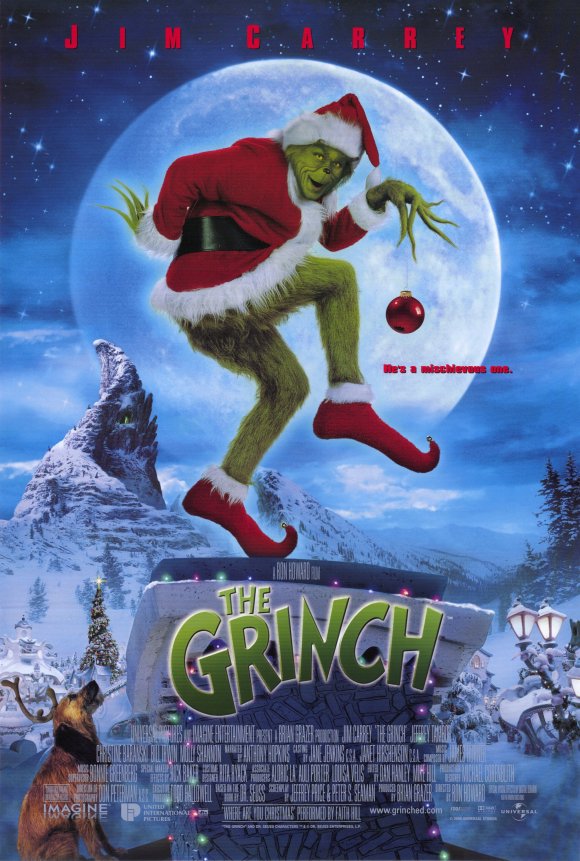 Photo: moviepostershop.com
The Grinch was the first Dr. Seuss book to be adapted into a full-length feature film and honestly, what would be a better option? Cindy Lou Who, played by Taylor Momsen, learns about the story of the Grinch and invites him to the Christmas Whobilation. The Grinch, played by Jim Carrey, reluctantly accepts but not without a major plan to destroy the Whoville Christmas first. No matter how many times you've seen it, this classic movie will instantly take you back to your childhood.
5. The Nightmare Before Christmas (1993)
Photo: Wikipedia
There's only one creative genius that could create one movie that serves as both a Halloween and a Christmas movie. Originally brought to the world as a poem by Tim Burton, The Nightmare Before Christmas is a stop-motion animation film of Jack Skellington, a resident of Halloween Town, accidentally stumbles into a portal that leads to Christmas Town. Impressed by the bright and cheery feeling of Christmas, Jack presents his own understanding of Christmas to the Halloween Town residents and announces he will take over Christmas this year. It's the perfect film for those that receive coal in their stocking every now and then.
6. Jingle All The Way (1996)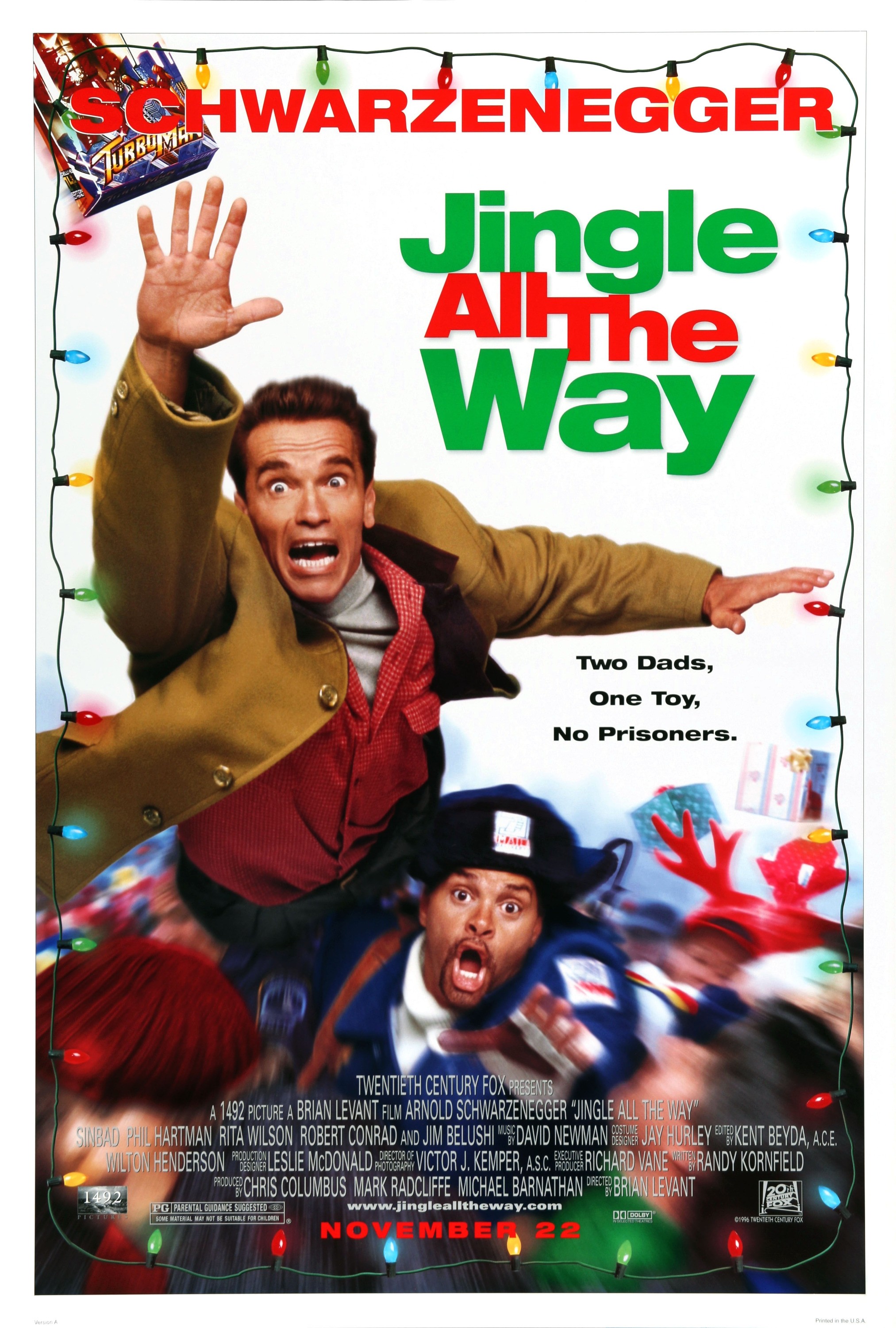 Photo: Impawards.com
The plot of this movie is every parents' mission during the holiday season: ANYTHING FOR MY KID! Inspired by the sell out of popular Christmas toys such as Cabbage Patch Dolls and Mighty Morphin Power Rangers, Howard Langston, played by Arnold Schwarzenegger, and Myron Larabee, played by Sinbad, are two fathers who are desperately trying to get a Turbo-man action figure for their sons on Christmas Eve. The shortcoming of these two fathers is met with hilarious obstacles but it taught us that even during the holiday season, our parents are the real MVPs.
7. A Charlie Brown Christmas (1965)
Photo: Amazon
This animated TV special first made its debut on CBS but ABC plays it [twice] every Christmas season for Peanuts fans of all ages. Charlie Brown finds himself depressed despite the season. He decides to direct a school Christmas play, but is ignored and teased by his friends. Overall, the special teaches us about how commercialization Christmas has become and reminds us of the true meaning of the season. Plus, Christmas Time is Here carol is the definition of nostalgia during this time of year.
8. The Muppet Christmas Carol (1992)
Photo: To Watch Pile
Our favorite Muppets add their own twist to the classic tale by Charles Dickens of Ebenezer Scrooge and his journey towards redemption on Christmas Eve. This musical comedy is filled with original and classic holiday songs that will get stuck in your head instantly.
9. To Grandmother's House We Go (1992)
Photo: imdb
If you were a little girl in the 90s, the Olsen twins were everything. After being adorable week after week on sitcom Full House, the twins first entered the film world with the holiday delight. Twins Sarah and Julie overhear their mother complaining about how much of a handful they are. To give their mother a break, they venture off to grandma's house because there's honestly no better place on Earth. Unfortunately, their journey is met with many complications including two robbers. A brief reminder on no matter how far you roam, there's no place quite like home.
10. Miracle on 34th Street (1994)
Photo: movieposter.com
Although this movie is a remake, the message is still super sweet. Kris Kringle, played by Richard Attenborough) is hired as the Cole's Department Store's Santa Claus. All the kids believe he is the real Santa except for six-year-old Susan, played by Mara Wilson. After finally sharing her Christmas wish with Kris, they make an agreement that she would start to believe in Santa if it came true. This heartwarming film reminds us to believe in the great good and magic that this season brings to us all.