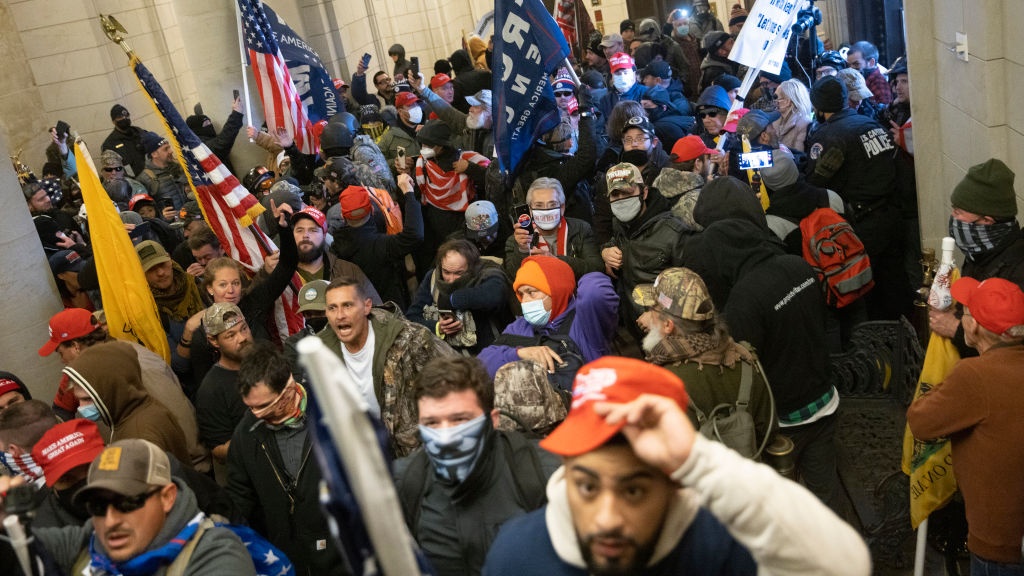 Black Capitol Officer Eugene Goodman To Be Awarded With Congressional Gold Medal For Bravery During Attempted Coup
Lawmakers finally put their praise online into action, filing legislation that would give the Black officer one of the highest awards a civilian can receive in the United States.
January 15, 2021 at 2:25 pm
Bipartisan legislation has been introduced that would award Black Capitol Police officer Eugene Goodman with a Congressional Gold Medal after his selfless actions during the January 6 domestic terrorist attack on Congress.
The bill, led by Reps. Charlie Crist, Emanuel Cleaver II and Nancy Mace, will give Goodman one of the highest awards a civilian can receive in the United States, according to The Washington Post.
"Thanks to his valor, we are here today. From the bottom of my heart, I cannot thank him enough for his bravery and for his dedication to the call of duty," Mace said.
When Officer Eugene Goodman was the only thing standing between Members of Congress & the mob, he selflessly redirected their fury on himself so they could escape. @RepCharlieCrist, @repcleaver, & I urge he be honored w/ the Congressional Gold Medal. READ: https://t.co/iOC3dz6Tdw
pic.twitter.com/utnOddD8JR

— Rep. Nancy Mace (@RepNancyMace) January 14, 2021
As Blavity previously reported, Goodman became immortalized thanks to the harrowing video shared by HuffPost reporter Igor Bobic. The video was initially seen as an example of the horror Black officers faced that day as they stared down an angry white supremacist mob eager to do harm to anyone, but especially people of color.
But as more analysis was done of the attack, many realized that Goodman was not running away, but instead using himself as bait to lure the mob of violent, heavily-armed Trump supporters away from the doors of the Senate.
Senators were still inside the Senate chambers — they would evacuate just two minutes later — but Goodman realized this and antagonized the leader of the pack, hoping they would continue to follow him. They came within a few feet of the Senate chamber doors, but Goodman quickly looked to his left and pushed the first rioter to make it up the steps, then lead them to another side of the building where there were more cops.
"Last Wednesday, I was inside the Senate chamber when Officer Eugene Goodman led an angry mob away from it at great personal risk. His quick thinking and decisive action that day likely saved lives, and we owe him a debt of gratitude," Senator Bob Casey said in a statement on Twitter.