Ever since #BlackoutDay was created to celebrate our black excellence and beauty, it has expanded to fabulous levels! There are now many specific Blackout hashtags celebrating various facets of the black experience, and today we're highlighting Eid Mubarak!
So, what is Eid Mubarak? It is a Muslim greeting, with "Eid" meaning "celebration" and "Mubarak" meaning "blessed." The celebratory salutation is used during festivals for Eid al-Adha after Ramadan and Eid al-Fitr in the month of Dhul Haj, which is the 12th and final Islamic month.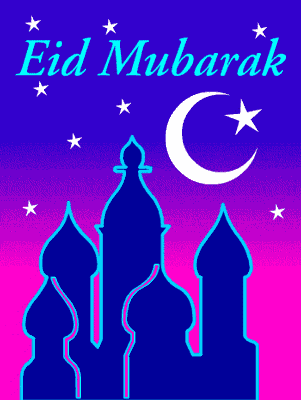 With today being Eid al-Fitr, of course, Black Twitter had to show up and show out for the celebration, and we were here for every minute.
Is this gif not your Eid mood?

Eid Mubarak! #BlackOutEid pic.twitter.com/qyDDyE7O0k— dinan's new account :( (@dinantics) June 15, 2018
We couldn't get enough of the striking beauty displayed on our social media feeds. Talk about stunning!
22 on this beautiful day #blackouteid 💫 pic.twitter.com/6tv3ovrG3G— Shahd (@ShahdBatal) June 15, 2018

#blackouteid pic.twitter.com/Sf1IfJccdt— Yasmeen ✨ (@yasmoney__) June 15, 2018
Gotta hit them angles #blackouteid pic.twitter.com/MbXvYOC789— Ahlam (احلام) (@AhlamETC) June 15, 2018
Call me the crescent because I've blessed you with my presence✨#EidMubarak #BlackOutEid pic.twitter.com/EhoaLsL2nT— و (@Naimandat) June 15, 2018
mix of Destiny's child, just a lil touch of Madonna's wild style and Janet Jackson's smile🤩 #blackouteid #eidmubarak pic.twitter.com/QUtBGLIEFg— Muna🇸🇴 (@MuunaOsman) June 15, 2018
Your wcw couldn't take proper pichos#SunjKoriteh220 #BlackoutEid #EidMubarak pic.twitter.com/c5vfgYkKXI— eabd-allah🇬🇲 (@KorrJorrJeng) June 15, 2018
#blackouteid pic.twitter.com/ocwjaniqNX— èra (@Baecutable) June 15, 2018
Eid Mubarak 🌹 #BlackoutEid pic.twitter.com/bK0dQnNbCn— 🌹 (@hxbon) June 15, 2018
Me and my family just coolin' 🇸🇴 #BlackOutEid pic.twitter.com/rKbNic7FNv— 1k 🇸🇴 (@Mali_Gold) June 15, 2018
My flower 🌸 #EidMubarak #BlackoutEid pic.twitter.com/ankjCDKspr— Abdallah (@babymire_) June 15, 2018
THE FAMILY #BlackOutEid pic.twitter.com/12rVxb2iHc— Leila (@_leelaw) June 15, 2018
mama's boy ❤️ #EidMubarak #BlackoutEid pic.twitter.com/0RpaBiDytf— eden hazard fan acc 🇧🇪 (@yxssuf) June 15, 2018
Oh, and check out our fave, Magid Magid! We all know he can't resist the rap squat:
🎉 Eid Mubarak to everyone! I hope you all have a blessed day! =] 👊🏾💚#EidMubarak#blackouteid pic.twitter.com/hM0qU70DlG— 🚀MΛG!D (@MagicMagid) June 15, 2018
Oh, and we have to pay homage to the creator of this specific hashtag:
s/o to Amo who's no longer on this wretched site for creating #BlackoutEid

hopefully any media people compiling tweets in the coming days after Eid with this tag will properly attribute credit to her— زينب (@zainab21) June 12, 2018