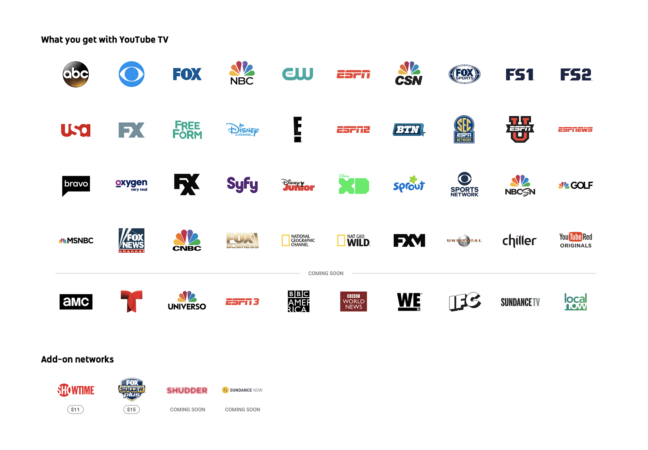 Just over a month ago, YouTube announced its plans to take a bite out of the subscription live streaming TV package space that DirecTV recently entered (DirecTV Now), with its very own $35-a-month TV service that will include both broadcast and cable TV networks.
The standalone app (separate from YouTube Red), which was expected to launch this spring, did so today although only in a handful of key markets: New York, Los Angeles, San Francisco Bay Area, Chicago, and Philadelphia, with more U.S. markets coming soon.
A YouTube TV membership is $35 a month; there are no commitments; and you can cancel anytime.
You can also sign up for a free one-month trial to test it out, with a complimentary Google Chromecast given to you after your first month's payment, while supplies last.
The service offers a "skinny bundle" which includes about 40 channels, composed of the so-called Big Four broadcast networks — ABC, CBS, Fox and NBC — along with some cable TV channels that are already affiliated with the broadcast networks. For example, as ABC is owned by Disney, which also owns the ESPN channels, the bundle will include ESPN; in the case of CBS, that would mean expect The CW and Showtime to be included (although Showtime is an added fee); with Fox, there's the FX network as well as Fox News, Fox Business News, Fox Movie Channel; etc, etc, etc.
But this means that – at least initially – at the time of launch, it does not include channels that operate exclusively on cable TV like pretty much all of the Viacom networks (BET, MTV, VH1, Comedy Central), AMC (AMC, SundanceTV, IFC) or Time Warner (CNN, TBS, TNT, HBO), and many more. Although YouTube TV promises to add more networks over time, as you can see in the "Coming Soon" section in the above image of network offerings.
Those considering cutting the cord for a service like this will be asked to give up a lot, making it less attractive, especially at $35 a month, which is also what DirecTV Now charges for its base package, although that service gives you 60+ channels, including some of those YouTube TV will not.
But the service will very likely expand its offerings over time to make it more attractive to potential customers. Unless they offer something else to make up for the networks the service lacks; like unlimited cloud-based DVR storage (which is included in the base package, and which competitors don't provide), and hopefully better overall service (DirecTV Now has been burdened with technical difficulties since its recent launch – problems that haven't been entirely resolved).
Hulu is also expected to unveil its own subscription live streaming TV bundle service later this year. And since it's a joint venture with Disney, Fox, Comcast (through NBCUniversal), and Time Warner, it should prove to be a real contender in the space.
With a YouTube TV membership, you'll also get:
A cloud DVR, with no storage limits. With YouTube TV, your cloud DVR can record as many shows as you want, simultaneously, without ever running out of storage. You can keep each of your recordings for nine months.
TV when it matters, where it matters. You can watch YouTube TV on your phone, tablet or computer – and you can easily stream to your TV with a Google Chromecast or Chromecast built-in TV. And your cloud DVR goes with you, so you can stream your recordings on any device, whenever you want and wherever you go in the U.S.
YouTube Red Originals. With a YouTube TV membership, you can watch all YouTube Red Original series and movies right in the new YouTube TV app.
Six accounts included. You can share your YouTube TV membership with your family and roommates, and each account will receive its own unique recommendations and cloud DVR with no storage limits. Your household can watch up to three streams at a time.
More networks coming soon. AMC, BBC America, IFC, Sundance TV, WE tv, and BBC World News will be included soon at no additional charge. These networks will join Telemundo and others as networks coming to YouTube TV soon after launch. And you'll also be able to add Sundance Now or Shudder for an additional charge.
To get started, check out tv.youtube.com today to start your free trial. You can also sign up on the Google Play Store and Apple App Store. If you're not in one of the initial launch markets but want to find out when YouTube TV is coming to your area, you can sign up here.