News
Esquire Slammed For Publishing Cover Story About Being A White Man In America In The Middle Of Black History Month
The magazine's editor-in-chief was inspired to do the story after noticing his son was experiencing difficulty after Donald Trump was elected president.
One of the hallmarks of journalism is telling the story of marginalized perspectives.
Esquire clearly takes the responsibility seriously because the magazine recently focused on one of the most unheard of perspectives in the country: that of a young white heterosexual male.
Like what you're reading?
Get more in your inbox.
The magazine's March 2019 cover story focuses on the life of 17-year-old Ryan as he navigates the 2019 political climate. The female writer followed Ryan around as he went about his life.
She also listened to him complain about getting called names on the internet and how being a white man has rendered his opinion invalid.
"What if I posted the same kind of thing but about what women do? Like, if I posted a photo of a feminist march? But wait, feminist people hate when white men talk about stuff like that. That would be the end of me," he told the reporter. "I guess they think since I'm not a girl, I don't have an opinion."
He also had opinions about school shootings.
"I don't know why it's always white males shooting up schools," Ryan said. "In the inner-city schools there are shootings and stuff, but it's more like 'I hate this kid because he touched my girlfriend, so now I'm going to shoot him.'"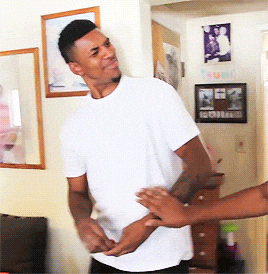 The writer also detailed the beliefs of the moderately conservative teen. He doesn't believe in abortion; he's cool with the death penalty and gender roles, but he supports gay marriage. Ryan's family also took the writer hunting.
This was an interesting choice to publish during Black History Month. Unsurprisingly, the piece drew strong opinions from social media.
If you're Black, queer, trans, a woman or any further marginalized you have to literally change the world before you become a cover star, but Esquire shows us that white cishet men and boys get to simply exist and be seen as worthy.

— Raquel Willis (@RaquelWillis_) February 12, 2019'
Am I getting this right: Esquire put a random white kid on the cover and wrote a story about him? In the middle of Black History Month?

DIVERSIFY YOUR NEWSROOMS AND PUBLICATIONS.

— Imani Gandy (@AngryBlackLady) February 12, 2019'
Hey @Esquire,

Trayvon Martin was also 17.
He also grew up in the age of social media
He also liked video games and sports and had the right to make some mistakes.

Instead of a magazine cover, he got a funeral.

We know about Ryan's experience. We need to understand Trayvon's. pic.twitter.com/Qh5NNlBQf3

— Mikel Jollett (@Mikel_Jollett) February 12, 2019'
When there is literally no diversity in your magazine's senior leadership -- an Esquire front cover story is what you will get.

They say it's one in a three-part series that will most likely have more diversity -- but the damage has already been done.

— Ernest Owens (@MrErnestOwens) February 12, 2019'
But hold your drawn-out "wow," because it gets better. Esquire editor-in-chief Jay Fielden wrote an editorial defending the piece. Fielden says he was inspired to do the story after noticing his son was experiencing difficulty after Donald Trump was elected president.
Fielden praised Ryan for being willing to speak out -- something that has never happened to a white man before.
"I'd like to thank Ryan here for the time he spent with Jen and photographer Justin Kaneps," he continued. "He may be only seventeen—and as infallibly human as the rest of us—but I admire the courage he's shown in speaking with us so openly about his life, and for agreeing to be on our cover. 'I know what I can't do,' he says, with some understandable frustration, at one point in the story. 'I just don't know what I can do.' I suspect that although quite a few adults would agree, not many would have the guts to say it out loud." This is just what we need in the second week of Black History Month: the white male perspective. The story is a part of a series, so cross your fingers and hope we will get a bit more diversity in the coming months.
Blavitize your inbox! Join our daily newsletter for fresh stories and breaking news.
Now, check these out:
Sponsored Content
8 Tools You Should Use To Help Achieve Your Personal Goals