How UNCF Is Creating Pathways For More Minorities To Succeed In STEM
Through the support of this powerful organization, students are becoming equipped with the tools necessary to combat the lack of minority representation in tech.
Over the past decade, the lure of finding success in the fields of STEM (science, technology, engineering, and mathematics) has skyrocketed as many of the nation's most popular tech companies have pushed scientific innovation to the forefront. Also, well-sought after brands such as Google, Apple, and Facebook—as well as hundreds of startups—have placed their roots in the country's biggest market for tech, Silicon Valley.
For years, this region of California's Bay area has produced thousands of jobs and opportunities for ambitious, innovative dreamers who desire to climb the ranks as the new frontier in tech continues to rise.
While a plethora of organizations in the valley promote diversity to the masses, there has been a glaring disparity in how they have practiced it, as the representation of blacks and minorities in tech stands vastly underwhelming. Although many may be quick to attack the source and fault the companies at hand, leading groups like the United Negro College Fund (UNCF) have taken the other route to recognize that the problem lies in the lack of organizations serving as a bridge between minorities and manufacturers.
UNCF, one of the nation's most renowned organizations dedicated to building pipelines for underrepresented students to become highly qualified college graduates, has put itself at the forefront of educating and empowering our young leaders of color as they enter the lucrative, but challenging, STEM industry.
Under the leadership of UNCF employees: Dr. Chad Womack, National Director of STEM Initiatives and the Fund II Foundation UNCF STEM Scholars Program, as well as Senior Managers, Carita Marrow and Lu Duong, the organization has created two powerful avenues to the leading names in tech via the
HBCU ICE Summit and the Fund II STEM Scholars Program.
Each year, "ICE", which stands for Innovation, Commercialization, and Entrepreneurship, gathers over 50 students and numerous faculty members for a four-day summit designed to encourage minority students to carve out their careers and pursue their passions within STEM. By fielding students from more than 30 HBCUs to attend the conference, UNCF motivates highly competitive companies throughout Silicon Valley to see our students of color as a cohort of applicants equal to the majority whom they should seek quality talent from.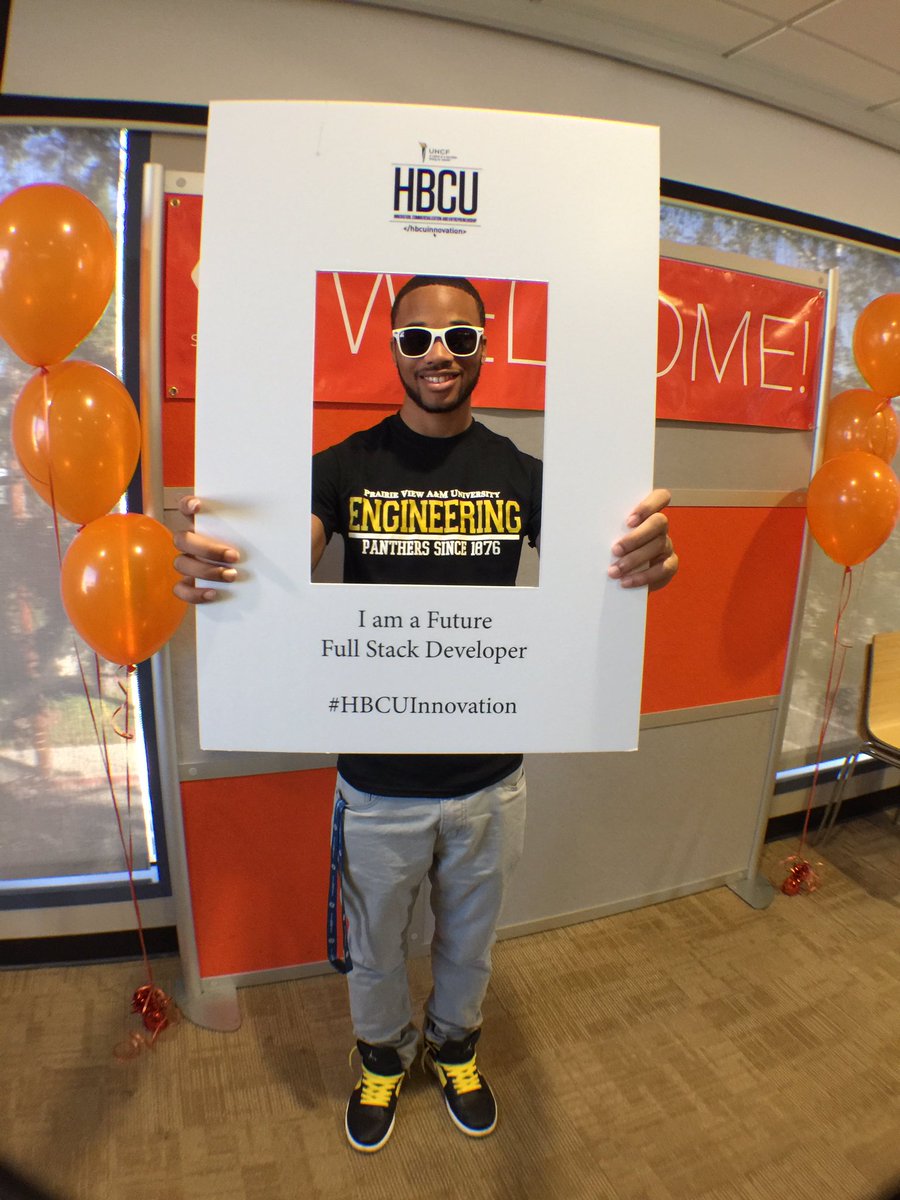 Additionally, 2017 marks the second year in which UNCF will welcome a new batch of Fund II STEM scholarship recipients. The program is a 10 year initiative designed to provide scholarship and academic support for a total of 500 talented African American high school students with career aspirations in STEM. Through this initiative, talented youth will receive the opportunity to pursue undergraduate STEM majors at all institutions, including HBCUs, private colleges, state universities and technical colleges—ultimately becoming prepared for successful careers in the tech fields.
In conjunction with these two primary initiatives, UNCF's efforts to provide mentoring, training, scholarships and other vital resources to underrepresented students across the nation, are proving to be a successful formula for diminishing the disparity in tech and increasing students' access to the leading names in STEM.
Aaliyah Griffin, a rising senior at Spelman College, directly credits UNCF for providing her with the chance to meet leading professionals at the workplaces of Google, Uber and eBay, to name a few. Pursuing a dual degree in computer science and computer engineering, she remembers telling herself that she would work for Pandora, a heavyweight in media and music engineering, after exploring its office space during her Summit experience in 2015.
Her dream would come true as she accepted an offer to intern with the company in the summer of 2016, eventually becoming the first black woman on her team. Professionally, she found value in particular workshops, such as resume review, as it helped her discover exactly what employers were looking for in potential talent. Also, Aaliyah found it reassuring to be amongst so many other HBCU students and professionals striving to succeed. She stated, "When you come across someone who made it and is seen as successful after making it through various things in life, it makes you feel like you're not the only one."
At Spelman, she has been involved with student groups such as BULB, ACM (Association of Computer Machinery) and NSBE (National Society for Black Engineers), while also participating in various hackathons and conferences off campus with Google. This summer, you can find her conducting research in computer engineering on GPU's (Graphical Processing Units) alongside the chair of the computer engineering department at Northwestern University.
Post-graduation, she hopes to attend engineering school and continue working towards her goal of having her own company after finding success at big name corporations. Through her professional opportunities, she emphasizes the need for organizations to embrace employees who bring different outlooks and experiences to the workplace.
"I feel it's important for companies to be diverse so the environment can be better. It sets a whole different atmosphere when you can walk into a company and you see all these different cultures have collided to make something great."
Josh Fitchett, a 2016 Summit Fellow, also relished the chance to grow from his time spent at the conference, labeling it as one of the best experiences he's ever had.
Now a rising senior at Morgan State University, he remembers being introduced to the summit through his involvement with Morgan X, an on-campus group for students interested in tech. An advocate for creating more avenues for blacks and minorities in STEM, he's had the opportunity to travel to Washington, D.C. to address personnel from various schools, Google and the White House about the need for more diversity in computer science, and technology overall.
Upon attending the summit, he appreciated the feedback he received concerning how to properly prepare for interviews with big-name companies in tech. Like others, he was floored by the chance to meet with employees from popular brands including Airbnb, Google, Adobe, Chevron, VISA and Space-X.
Pursuing a degree in electrical and computer engineering with a minor in computer science, this summer Josh can be found working with NASA on projects catering to satellite communications and full-stack web development. As his task load with the department ramps up, he finds himself grateful to continue working with NASA full-time after graduation.
When thinking about the challenges minorities face in entering the STEM field, he expressed, "There are a lot of holes that need to be filled to get our people to Silicon Valley, because these companies are now looking for talent outside of the norm. So, we have to meet them halfway with the qualifications. As African Americans, we're working up a hill already, so it's an advantage to work with organizations like UNCF because they bring more awareness and opportunities not only to the African-American community but to all minorities."
Spelmanite and rising senior Brianna Fugate, was motivated to attend the ICE Summit after hearing such raving reviews from her peers who had gone. When attending the conference during the fall of her sophomore year, she grew fond of the close bond she shared with students from different schools. Vividly, she remembers how nice other students were to chip in and assist her with a homework assignment that was due during the summit. Through instances like those, Brianna was able to form friendships with people who she is glad to have as a part of her broader network now.
"The family and bond that comes from the innovation summit is something that is unbreakable, and since we all had this experience, we went through the trenches together," she stated.
Majoring in computer science, she credits the nonprofit, Black Girls Code (BGC), for introducing her to the field in high school, and providing her with the chance to attend an institute with Google before her freshman year. Three years later, she has since volunteered at BGC events and hackathons, while also serving as a student board member for the Anita Borg Institute, an organization advocating for the advancement of women in technology. Last year, she participated as a fellow in the Code2040 Fellows Program, which focuses on providing blacks and Latinos with the resources and skills needed to emerge successful in the world of innovation, engineering and technology. This year, she will be a lead fellow serving as a peer mentor to the cohort of first-years.
Recognized as a White House HBCU All-Star, she has interned at the White House's science and technology policy office, and worked on diversity and inclusion efforts with the Chief Technology Officer of the United States. Through all these experiences, she aspires to continue working in data analytics and eventually become a VP of Engineering for a middle-sized company.
Like Aaliyah, she currently enjoys her summer internship with Pandora, as she's been learning how to build databases and conduct full-stack projects for advertisements based off user interaction. Ultimately, she thanks UNCF for the enormous amount of support, personally and financially, that they have afforded her with over the years.
"Receiving numerous scholarships from UNCF over the years, renewable ones at that, has been a huge help to offset the cost of tuition attending Spelman; it has been super crucial."
Eric Mason, a rising sophomore at Stanford University, was fortunate to be a part of the first cohort of Fund II STEM Scholars. Having grown up between two cities in Illinois—Chicago and Springfield—he possessed the perseverance needed to overcome the odds dealt to him as a student who endured homelessness for three of his high school years. Pushed to apply for college and scholarships by a prominent mother-like figure in his life, he was reassured that his goals would be possible to meet after receiving both the Ron Brown Scholarship and UNCF STEM scholarship.
Currently majoring in chemical engineering with a minor in computer science, Eric admits that his first year at a prestigious institution in a new state was a difficult transition. However, he has found support and comfort from the relationships he has made with UNCF, proclaiming to look up to the Fund II Foundation's Executive Director, Linda Wilson, as a pseudo-mother he can confide in at all times. He elaborated, "The monetary value of the scholarship is somewhat irrelevant to me because the networking and educational opportunities I have mean a lot. I see the scholarship as a ladder that can lead to success."
This summer, he has been interning in New York with Goldman Sachs in their human capital management industry where he has found improvement in his literary, business and interpersonal skills by meeting people from all walks of life. An active runner who ran track and cross country in high school, he is also training to compete in the 2020 Olympics.
Eventually, he aims to climb to a leadership position within a firm (i.e. Lead Analyst or Associate VP) or pursue other opportunities in chemical engineering. Also, he views his experience with UNCF as one of many reasons to pay it forward, as he has started his own nonprofit catered to helping kids from his area go to college. When discussing his passion for wanting to give back to others consistently, he said, "What I really want to do is pave a pathway and let people know there is room for black people and minorities within these spaces."
Harvard University student, Augusta Uwamanzu-Nna, has also reaped the benefits of joining the first cohort of Fund II STEM scholars.
After being one of the very few to gain acceptance to all eight Ivy League institutions, she didn't want a lack of finances to deter her college experience. When applying for UNCF'S STEM scholarship, she found hope in the possibility of gaining a support system for a black student like herself who had only been able to showcase her love for STEM in predominantly white spaces. She mentioned, "As a rising sophomore, I can not see how I would have been academically successful in some of my STEM classes, specifically mathematics, without the encouragement I received from my cohort scholars, cohort program leaders Carita Marrow and Lu Duong, and the entire UNCF STEM Scholarship program."
Currently pursuing a degree in bioengineering, she is active in various extracurricular activities on campus, including the modern Nigerian dance troupe Omo Naija, Nigerian Students Association, and Harvard Consulting on Business and the Environment. Also, she will be serving as a founding board member for Harvard's chapter of NSBE.
This year, Augusta received the impeccable honor of being named as a member of Forbes 30 Under 30 in Energy. Through the recognition, she found reassurance that her goal of becoming a leader and innovator in STEM is attainable while also realizing how important it is for organizations like UNCF to continue addressing the diversity disparity in STEM. She stated, "It is so hard to navigate a space that was not intended for you, especially when surrounded by people who do not look like you. Organizations like UNCF STEM are the important safe space that students like me can go to speak about the challenges that are unique to us as minority students in STEM. Without this support system, I can't say that I would still be rooted in my STEM interests."
With the spread of opportunities these students and their peers have received, it's safe to say that UNCF is preparing the next generation of minority leaders to take over the world of tech much sooner than later.
To see more about one of the experiences UNCF students are provided with, check out this recap from the 2016 STEM Scholars Orientation.