Jeremy Lin Wants To Know If His Dreads Are Cultural Appropriation
Lin: "You probably have some questions and comments. I definitely want to hear them."
October 05, 2017 at 8:38 pm
Jeremy Lin first stepped onto the scene as the player to watch (remember "Linsanity?") for the New York Knicks.
Fast forward eight years, and Lin is a guard for the Brooklyn Nets. He recently spoke out about an aspect of his image that has gotten some talk: his hairstyle.
In an essay for The Players' Tribune, Lin decided to address his new dreadlocks head on.
Lin just cut to the chase with, "So … I have dreads now. And you probably have some questions and comments. I definitely want to hear them."
He went on to talk about his initial thoughts about his hair, noting that he saw his varied hairstyles (which have included a gelled-spike look and braids) as an "expression of freedom" that was "fun."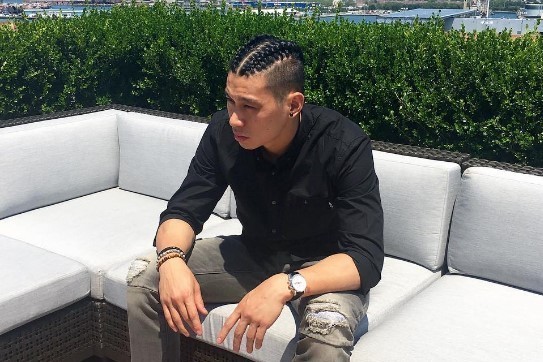 However, he quickly noticed his hair started to become "a thing," with even his mom joining in on the criticisms. Lin said that it didn't escape his notice that most people people noted his hair looked "dumb," but wrote, "I didn't care too much. I was doing it for me."
But, with locs, Lin realized that the pushback would go far beyond just people on the internet making snide remarks about the aesthetics of his look. He was pretty sure he would be accused of cultural appropriation.
Lin decided to tackle it with honesty.
"At first I didn't see the connection between my own hair and cultural appropriation. Growing up, I'd only ever picked from one or two hairstyles that were popular among my friends and family at the time. But as an Asian American, I do know something about cultural appropriation," he mused.
"I know what it feels like when people get my culture wrong. I know how much it bothers me when Hollywood relegates Asian people to token sidekicks, or worse, when it takes Asian stories and tells them without Asian people. I know how it feels when people don't take the time to understand the people and history behind my culture. I've felt how hurtful it is when people reduce us to stereotypes of Bruce Lee or 'shrimp fried rice.' It's easy to brush some of these things off as 'jokes,' but eventually they add up. And the full effect of them can make you feel like you're worth less than others, and that your voice matters less than others."
As such, Lin said that he never wanted to make another culture feel that way.
To explain how he ended up getting locs, Lin began at the beginning.
It all started with his braids. "I didn't know much about braids, but Kemba [Walker, of the Charlotte Hornets] helped me out. He even lent me one of his do-rags because I had no idea how to care for my braids or where to get a do-rag," Lin wrote.
Once he got to the Nets, Lin says that his teammate Rondae Hollis-Jefferson offered to get his hair in dreadlocks as well, should Lin decide to get his hair dreaded.
Lin still wasn't sure it was a good idea.
But a conversation with Nets staff member Savannah Hart — who is black — shed some light on the matter for him. She told him that he should use his potential dreads as an opportunity to learn about another culture.
Next thing you know, he was sitting in a chair next Hollis-Jefferson, and they were both getting their hair put in locs.
Lin knows that the conversations around this will be "uncomfortable." Overall, though, he said that he wants everyone to know that he doesn't believe this gesture is the "be-all and end-all" of cultural appropriation resolution.
"I don't have the answers. But I hope the thing you take away from what I'm writing is not that everyone should feel free to get braids or dreads — or that one gesture can smooth over the real misunderstandings that exist in our society around race and cultural identity," he wrote.