Update (August 12, 2018): Kanye West didn't appreciate looking foolish in the wake of his recent interview with late night funnyman Jimmy Kimmel. In a series of tweets unleashed on Saturday, August 11, Yeezy clarified the moment where he appeared to be stumped by Kimmel's question regarding President Donald Trump and former President George W. Bush:
On Jimmy Kimmel we had a great time having a dialogue. I'm reading that I was stumped by a question. Let me clarify the click bait. I wasn't stumped. I wasn't given a chance to answer the question.

— KANYE WEST (@kanyewest) August 11, 2018
The question was so important I took time to think. And then I was hit with the let's go to commercial break. That interview showed strong personalities with different opinions having a civil conversation.

— KANYE WEST (@kanyewest) August 11, 2018
I was so happy when I saw Jimmy walk out in the Yeezys. That was an olive branch. He lead with love. I appreciate Jimmy and his team. You guys are Jedi's. much love.

— KANYE WEST (@kanyewest) August 11, 2018
Original: Kanye West is stumped.
During an appearance on Jimmy Kimmel Live on Thursday, August 9, the two talked about everything from West's mental health to his personal "simulation" philosophy. For the bulk of the interview, Kanye was very Kanye as he spoke his mind even if he received a few side-eyes in response, but one question ultimately stumped him.
Kimmel inquired about West's bothersome support for Donald Trump.
"You famously and so powerfully said 'George Bush doesn't care about black people.' It makes me wonder, what makes you think that Trump does?" Kimmel asked.
The question we all wanted to know, to be honest! Kimmel brought up that Old Kanye!
And, we kid you not, 'Ye pretty much turned into this GIF: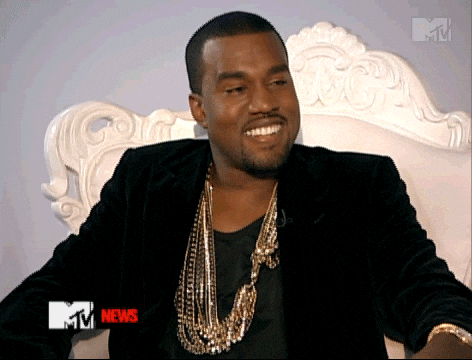 His answer? Silence! West appeared to be contemplating the right answer, and Kimmel cued up the commercial break promptly.
Kimmel: "You famously said George Bush doesn't care about Black people. It makes me wonder what makes you think Donald Trump does, or any people at all?"

Kanye: "…….." pic.twitter.com/xnGFTUMrU8

— Philip Lewis (@Phil_Lewis_) August 10, 2018
However, when they returned, they didn't resume to regularly scheduled programming; they started talking about his new album, Ye.
West might have been silent, but Twitter had a lot to say about his reaction.
Kanye dodging @jimmykimmel question about supporting Trump: pic.twitter.com/xd15EkktyU

— KristinDeLuciaMorgan (@kmorgan76) August 10, 2018
Kanye wants the flames… "I quite enjoy when people are mad at me" …

He's trolling. Which is why you got stumped by Kimmel fam… c'mon fam!

— The Old Man (@oldmanebro) August 10, 2018
But we needed answers.
I want to know the answer to the question @jimmykimmel asked @kanyewest too. I never believed that former president George W. Bush hated Black people, but absolutely doubt the current occupant in the WH cares about us at all.

— Dr. Alisha Johnson (@IamAlishaLouise) August 10, 2018
Check out the full interview below:
Now, check these out:
'Make Kanye Great Again': These Celebs Are Turning Off All Of The Lights On Yeezy After His Wild Twitter Rants
Kanye West Wants To Shock The World By Dropping A Philosophy Book Called 'Break the Simulation'
Sorry 'Ye.' Since You Stopped Caring About Black People, I'm Not Gon' Let You Finish.