Michelle Obama Proves She's Amazing At 'Becoming' Barack Obama With This Hilarious Impression
We also learned this fun fact: her nickname is 'Mich!'
November 15, 2018 at 7:01 pm
Michelle Obama is having fun on her book tour! The former first lady played a game of "Hot Seat" with Ellen DeGeneres on the comedian's show this week, and her answers to Ellen's questions were beyond entertaining.
Along with admitting she preferred Jermaine Jackson over Michael Jackson as a child and dishing on whether she likes Ellen or Oprah better, the forever first lady did a fabulous impersonation of her husband, Barack Obama.
"Well, let me tell you, I have three points. One, and then there's two, and finally, three," Mrs. Obama said in a lowered voice, managing to include all of her husband's vocal quirks.
Obama challenged DeGeneres to her best Barack impression, but the comedian bowed out. Also, according to Michelle, Sasha and Malia like her presidential impression as much as you probably just did. The former first lady said it is one of the things her daughter enjoy most about her.
DeGeneres gave Mrs. Obama a chance to finish the following statement: "My spouse gives the best … ," clearly leaving room for a double entendre. But the forever FLOTUS chose to go high.
"He's the best at everything!" Mrs. Obama responded with a smirk and a laugh.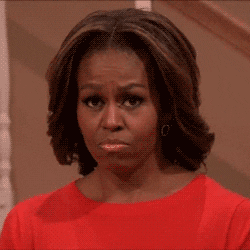 In a cute moment during the game, Obama revealed her favorite nickname is "Mich." So adorable!
Check out the rest of the pair's chat below:
Michelle Obama's memoir,
Becoming
, is available for sale now.
Liking this content? Check these out:
Michelle Obama Says She Developed 'A Whole Strategy For Hair' During Her White House Years That Would Shock 'A Lot Of White Women'
[Exclusive] Michelle Obama: Going High When Others Go Low Doesn't Mean Ignoring Reality Or The Power Of Your Vote
Michelle Obama Gets Candid About Trying To Please Fashion Critics As The First Black FLOTUS