Ever since those blurry paparazzi pics of Rihanna and her new man surfaced back in 2017, all eyes have been on the pair.
That man was quickly identified as Saudi billionaire Hassan Jameel. Harper's BAZAAR reported the couple had broken up in June because Rih was "tired of men." However, it looks like she's still hanging tough with Jameel.
The paps spotted them again, but this time, it wasn't cute canoodling going on, it looked to be pretty tense. In the photograph, you can see the couple sitting across from each other — Rihanna motioning with the black woman point of "uh-oh, ish about to pop off."
Rihanna is on vacation screaming at her billionaire boyfriend with a blunt in her hand…. I want that life pic.twitter.com/IktWacCjS3— yung hurn stan (@daiconrih) July 10, 2018
Rihanna arguing with her billionaire boyfriend while holding a blunt is an actual mood pic.twitter.com/uikvPifjss— c (@champagnepetty) July 10, 2018
Of course everyone had to drop their thoughts about the scene. Some even photoshopped it so it looked like Rih had her finger right in Jameel's face, making everything look far more tense.
Rihanna yelling at her billionaire boyfriend & smoking a blunt is big dick energy— young dagger dick (@kyleanotjenner) July 10, 2018
All this over one private argument with her boyfriend. You're looking at pics that were taken without her consent and are analyzing her whole ass personality off it. Lol mind your business & stop acting like you know who Rihanna is https://t.co/9iUAkL0wwZ— ???? (@britneyvibes) July 10, 2018
Rihanna yelling at her boyfriend in Mexico while smoking a blunt is the most me someone other than me has ever been pic.twitter.com/OQQQoTXAxB— Natalie V Dávila (@natalievdavila) July 10, 2018
Being the ever-so-cheeky star that she is, Rih posted a meme of her own in response:
"when u think u know more bout soccer ???????????? #worldcup2018," the Fenty mogul captioned a picture featuring a female lion growling at a male lion, as the latter cowers in the corner.
There were sooooo many projections as to what the couple were talking about, but Rih hit us all with the "now back to regularly scheduled World Cup programming."
We have have no idea whether she's joking or if the couple really had a serious debate about soccer, but the message is clear: whatever it is, Rih still has something to smile about.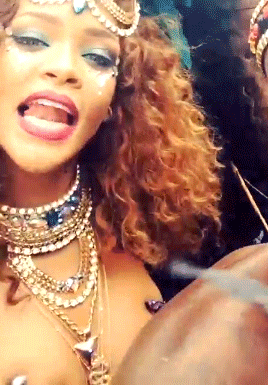 Liking this content? Check these out:
This Is How Rihanna Celebrated Her 30th Birthday
We Love The Reason Rihanna Specifically Requested Her 'Ocean's 8' Character Have Locs
Rihanna Claps Back At Snapchat For Insensitive Ad Poking Fun At Domestic Violence: 'You Let Us Down'