Sports
The White House Will Be Hosting A Party For The National Anthem Since The Philadelphia Eagles Don't Want To Hang Out With Them
Welp!
Photo Credit: Photo: Matt Rourke / Associated Press
As soon as the Philadelphia Eagles won the Super Bowl, people wondered whether they would follow tradition and visit the White House to celebrate their achievement.
Like what you're reading?
Get more in your inbox.
Players Torrey Smith, Chris Long and Malcolm Jenkins announced they wouldn't be attending the celebration. Smith, Long and Jenkins all held up a fist instead of taking a knee during the national anthem at the championship game.
At first, the other players were quiet about their plans. However, on May 31, it became clear the majority of the Eagles had no plans of visiting the White House and meeting with President Trump.
On that day, the Eagles organization submitted a list of representatives who planned to attend, including players, coaches, management and staff. In total, 81 members of the Eagles organization elected to come, The Hill reports. Only 10 players planned to come.
The White House addressed the low turnout in a statement from Press Secretary Sarah Huckabee Sanders.
"Unfortunately, the Eagles offered to send only a tiny handful of representatives, while making clear that the great majority of players would not attend the event, despite planning to be in D.C. today," Sanders said. "In other words, the vast majority of the Eagles team decided to abandon their fans," she continued.
Faced with the prospect of getting to meet with only 10 Eagles players, Trump decided to disinvite the entire organization and instead announced he would host a "Celebration of America" on Tuesday afternoon (June 5).
We will proudly be playing the National Anthem and other wonderful music celebrating our Country today at 3 P.M., The White House, with the United States Marine Band and the United States Army Chorus. Honoring America! NFL, no escaping to Locker Rooms!

— Donald J. Trump (@realDonaldTrump) June 5, 2018
We have had many Championship teams recently at the White House including the Chicago Cubs, Houston Astros, Pittsburgh Penguins, New England Patriots, Alabama and Clemson National Champions, and many others. National Anthem & more great music today at 3:00 P.M.

— Donald J. Trump (@realDonaldTrump) June 5, 2018
"Disinviting them from the White House only proves that our president is not a true patriot, but a fragile egomaniac obsessed with crowd size and afraid of the embarrassment of throwing a party to which no one wants to attend," Philadelphia Mayor Jim Kenney said in an official statement.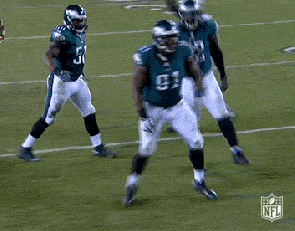 Many took to Twitter to address the cancelation and outright troll President Trump.
Our party was bigger than yours #FlyEaglesFly pic.twitter.com/HIZk8xnJF1— Jane Slusser (@janeslusser) June 5, 2018
There are a lot of people on the team that have plenty of different views. The men and women that wanted to go should've been able to go. It's a cowardly act to cancel the celebration because the majority of the people don't want to see you. To make it about the anthem is foolish

— Torrey Smith (@TorreySmithWR) June 4, 2018
In writing about "escaping to locker rooms" in his tweet, the president was referring to the NFL's new national anthem protest policy, which requires players to stand while the anthem plays. Players who do not wish to do so can skip the anthem and remain in the locker room until it ends.
Trump wasn't pleased with this new policy, however.
"I think that's good. I don't think people should be staying in the locker rooms, but still, I think it's good. You have to stand proudly for the national anthem," Trump said during an interview with Fox & Friends. "You shouldn't be playing, you shouldn't be there. Maybe they shouldn't be in the country."