Jada Pinkett-Smith's Facebook show Red Table Talk has garnered the attention of many folks in the black community, as its open and honest familial discussions are a breath of fresh air.
On June 25's episode, Pinkett-Smith sat down with Girls Trip co-star Tiffany Haddish to discuss her volatile foster care upbringing, feeling like she "made it" when Beyoncé said her name in a song, getting fly for Drake and tackling sexual harassment in the comedy industry.
Haddish came right out the gate in her lovable Tiffany-way, bringing Pinkett-Smith some Tuscan kale. Haddish fans will remember the vegetable from her hilarious "joyful greens" recipe.
Haddish then dished on her appearance in Drake's "Nice for What" music video.
"I was texting with Drake, and he was like, 'Man, I'm so excited about the video,' and I'm like, "Man, I'm so excited about the video, too," and he was like, 'We should hang out sometime.' And I'm like, 'Yeah, I'm down to hang out, I'm cool to hang out, you let me know!" Haddish said.
After agreeing to dinner, Haddish said, "I block all this time off … shoot, I go get my mustache waxed, you know what I'm sayin', get my armpits waxed, got me a nice little dress," and after checking with Drake for the deets, he dropped the "family emergency" bomb on her and canceled.

"I'm like OKAY … OKAY! I could've made $100,000 today, but I was trying to see what that D do, but alright!" Haddish exclaimed as Pinkett-Smith laughed.
The ladies then did a round of Facebook fan questions, and Haddish got vulnerable about the sexual harassment she faces in the comedy world.
"Ooh yeah, definitely a lot of sexual harassment in comedy because comedians are perverts," said Haddish. "I always handled it well, though, I always turned it around on them, you know? What a man can't handle is an aggressive woman."
She gave an example citing how men would approach her with lines like, "If you want five minutes of stage time, you going to have to give me 5 minutes: what you gon' do for it?" Haddish said she would give an aggressive reply to scare them off.
"They try to snatch your light, man. You can't let them have your light," she concluded.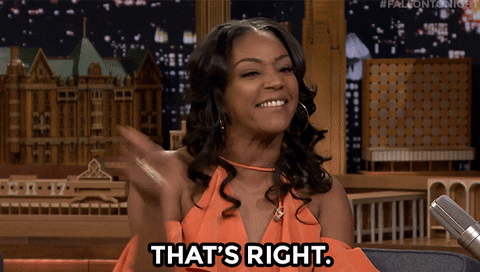 MESSAGE!
You can take a virtual seat at the Red Table and check out the full episode below!