9 Reasons Why Jay-Z's 'The Blueprint' Is A Musical Masterpiece And Self-Fulfilling Prophecy
The iconic album not only changed the soundscape of hip-hop as we once knew it, but its release also marked a monumental time in history
On March 21, Blavity reported Shawn 'Jay-Z' Carter's sixth studio album The Blueprint was inducted into the National Recording Registry for the Library of Congress. The 15-track album is considered a dynamic piece of work, created by Carter during a time in which his "credibility came under threat" by other New York artists. In the end, Jay-Z has proven why he was destined for greatness while simultaneously showcasing some of his best creative work.
"The Blueprint demonstrates Jay-Z's range, from battle raps […] to triumphant anthems about life at the top, to heartfelt examinations of his personal story," the National Recording Preservation Board wrote.
The collection of songs on The Blueprint offered up new and profound soundscapes, which has since transformed and elevated hip-hop as a genre and continues to influence the music en masse today. Her are nine facts about theThe Blueprint's production and release, highlighting why this masterpiece continues to reign supreme as one of the most prophetic albums ever composed.
1. Jay-Z's storytelling in The Blueprint is not only gripping, but vivid, detailed and emotive.
Whether it be the center of an argument with a neglected lover, the experience of being a young son abandoned by his father or the pressure of acting as the primary source of income for friends and family, songs like "Momma Loves Me," "U Don't Me" and "Song Cry" demonstrate Jay's ability to catapult his audience from their respective locations straight into his world.
"Momma raised me, Pop I miss you / God help me forgive him, I got some issues / Mickey cleaned my ears, Annie shampooed my hair / Eric was fly… s**t, I used to steal his gear," he raps about his family in "Momma Loves Me."
Each story provides a closer analysis of his complex relationships, past traumas and elements of where he grew up in Brooklyn's Marcy Projects, conveying his day-to-day reality through poetry.
2. At the time of The Blueprint's release, Jay-Z was facing up to 15 years in jail.
On December 3, 1999, Jay-Z was arrested and charged with felony assault in the second degree after stabbing Lance 'Un' Rivera, a music executive, at the New York City Kit Kat nightclub, MTV News reported. Jay-Z was on the verge of releasing his fourth studio album Vol. 3…The Life and Times of S. Carter. According to hip-hop lore, Hova was under the impression that Un was responsible for bootlegging and leaking the album prior to its scheduled release date.
The case went through two years of rescheduled dates and court appearances until October 17, 2001, four weeks after the release of The Blueprint. The second-degree assault charge held a maximum sentence of 15 years in prison, prior to being offered a deal in which Jay-Z could plead guilty to a less severe third-degree assault charge. After accepting the plea bargain, Hov was sentenced to three years probation. Throughout the album, which was recorded during the two-year stall in court, Jay-Z maintained his innocence. (Although, he later confessed to the act in the track "Kill Jay Z" on 4:44.)
Many attribute Jay-Z's legal woes to the vulnerability and immaculate attention to detail embedded throughout The Blueprint, in addition to his sheer determination to move past his mistake — albeit by any means necessary. The stabbing incident would go on to become one of the most publicized events in Jay's early career, but it did not define him or his character. By the time he had accepted the plea deal, the album had already gone platinum, reportedly selling 1.1 million records in five weeks.
3. Despite its release coinciding with the most horrific day in American history — September 11, 2001 — The Blueprint still hit No. 1 on U.S. music charts.
A monumental album, The Blueprint was praised by critics and fans alike following its release. Its debut not only occurred during a challenging phase in Jay-Z's personal life, it also hit record stores on one of the most significant days in America's history: September 11, 2001. In the face of the terrorist attacks on the World Trade Center in New York City, Jay-Z's album still managed to climb music charts in the U.S., eventually soaring to No. 1. According to

Billboard
, the album sold an impressive 427,000 copies within the first week of its release, despite a 5% decrease in sales in the wake of the tragedy. In fact, it held the top spot for nearly four weeks, until Ja Rule dropped his highly anticipated album
Pain Is Love
the following October.
4. Legend has it that Beyoncé and Jay-Z first met and became friends during the creation of the album.
People confirms that around the time of The Blueprint's release, the future Mr. and Mrs. Carter were rumored to have begun dating. Adding fuel to the fire, Jay and Beyoncé made their first-ever, joint on-screen appearance when she appeared in a cameo for the "Izzo (H.O.V.A.)" music video, alongside Destiny's Child members Kelly Rowland and Michelle Williams.
JAY-Z "IZZO (H.O.V.A.)," from Loon via Vimeo.
The Blueprint's "All I Need" seemed to allude to the desire for a high-profile relationship the two would later have.
"All I need is a chick that hold a jammy / Like Meth and Mary / Like Marvin and Tammi," Jay raps.
It also managed to provide foreshadowing for the future when Jay sings, "All I need in this world of sin/ is me and my girlfriend," making a Tupac reference that the pair wouldn't tackle until a year later in the epic "'03 Bonnie and Clyde" collaboration.
Blavitize your inbox! Join our daily newsletter for fresh stories and breaking news.
5. Kanye West became a sought-after producer following his work on The Blueprint.
Although Kanye West's first solo song with Jay-Z came in 2000, his work on Jay-Z's "Izzo (H.O.V.A.)," the album's first single, became the highest charting single of Jay's career at the time, which was a feat within itself. The spot was only outdone eight months later by Kanye himself, when he worked with both Jay and Bey on "'03 Bonnie & Clyde." Kanye's signature sound, particularly his creative ability to sample classic soul songs of yesteryear, had a major impact on The Blueprint's overall quality, enhancing tracks like "Takeover," "Heart of the City," Never Change" and "Girls Girls Girls Part 2." Furthermore, Ye and Hova's collaboration set the pace for Kanye's career as a music producer, forging his successful trajectory as an innovative, in-demand producer. Kanye also famously talked about this period in his life on the final track of his debut solo album College Dropout.
6. The album only had one featured guest rapper — Eminem.
Similar to J.Cole's ability to go "platinum with no features," The Blueprint only officially featured Eminem — who also produced the track — as the sole guest for the entire album. The song "Renegade" is applauded for its spectacular use of the English language, particularly how it leverages onomatopoeia, hyperbole and double entendres, as well as the other facets of lyrical excellence both artists exhibit throughout the track. "Renegade" remains as one of the most discussed collaborations in hip-hop for this reason today: Who outdid whom?
7. Upon the album's release, the second track "Takeover" solidified the legendary Nas vs. Jay-Z battle once and for all.
Nas and Jay-Z's ongoing beef erupted into a spitfire once the release of The Blueprint exposed an extended version of the track "Takeover" with two extra verses — one of which directly targets Nas. Prior to The Blueprint's release, Jay actually shared a taste of the track during the Hot 97's Summer Jam concert, in an incident that ultimately inspired the phrase, "Put you up on the Summer Jam screen!" It started when, in an effort to single out Mobb Deep, the Roc-A-Fella records co-founder projected a childhood photo of Prodigy dressed up and dancing as Michael Jackson throughout the stadium, then rapped 32 bars from the upcoming single.
"Ask Nas, he don't want it with Hov! No!" Jay-Z concluded.
Ultimately, this exacerbated Hov's conflict with Nas, who had previously criticized Jay-Z on the song "We Will Survive."
Although both artists had been sending each other subtle verbal shots since roughly 1996, The Blueprint helped ignite full-out lyrical warfare in a beef that extended through 2005, until their public reconciliation during Jay-Z's I Declare War tour. Despite burying the hatchet, this beef continues to rank as one of the most epic high-profile, hip-hop feuds of all time.
8. Lyrics from "Song Cry" would later become the turning point for Jay's most successful — and one of the world's most popular artists — Rihanna.
Praised for its vulnerability, the broken-relationship anthem was the final single off The Blueprint, and its lyrical impact secured a Grammy nomination in the Best Male Rap Solo Performance category.
"They say you can't turn a bad girl good, but once a good girl's gone bad, she's gone forever," Jay-Z sings on the popular single.
Jay-Z reportedly told TV host Bill Maher that the song was prompted by the culmination of three separate relationships from his past, all of which ended due to his own infidelity and dishonesty. Rihanna would later use the phrase as inspiration for one of her own singles as well as the title of what remains one of her most notorious records, her third studio album Good Girl Gone Bad. Updating her innocent image with a more mature, edgy look and developing her sound to showcase more R&B and pop influences, the album is known as the turning point in the Bajan songstress' career — especially the Dream-produced song "Umbrella," which topped music charts worldwide in record-breaking numbers. Jay-Z signed Rihanna to Def Jam when he was still president of the legendary music label, and Rihanna later followed him to Roc Nation following his 2007 departure.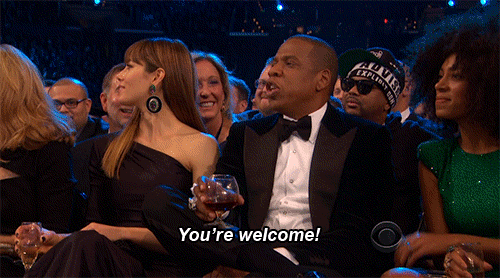 9. An ode to hip-hop, rock and soul, The Blueprint is literally a production paradise and an ode to hip-hop, rock and soul.
Other than Kanye West, Jay-Z worked with several other producers for the first time when recording The Blueprint, ushering in a new level of sonic exploration while developing this innovative soundscape. Combined with production via Timbaland, Just Blaze, Pharrell, Bink! and even Eminem, the album is a mixture of various textures and origins, working efficiently together in this hip-hop melting pot. It includes countless nods to fellow artists and their lyrics, including Snoop Dogg, Tupac, Biggie and Slick Rick. Additionally, The Blueprint incorporates vocals, music samples and interpolations of hip-hop, rock and soul sounds from a diverse scope of heavyweights like Biz Markie, Q-Tip, KRS-One, Crash Crew, Michael Jackson, David Bowie, The Doors, Tom Brock, David Ruffin, Natalie Cole, Al Green and more.
Through the lyrics, production, themes, references and numerous affirmations that turned into manifestations on The Blueprint, Jay-Z was able to cultivate an image based on what he wanted us to see while stimulating how he wanted us to feel. At the same time, he never censored, avoided any of his own personal dark truths. A timeless record, The Blueprint is a revelation from Jay-Z, proving to himself and the world that he not only sees the value of learning from past transgressions, but is also capable of evolving beyond them.
Now, check these out:
Jay-Z's Iconic 'The Blueprint' Album Will Be Preserved In The Library Of Congress
T.I. Seen Scolding Young Man For Wearing Gucci: 'We Make That S**t Fly'
Someone Found Bobby Shmurda's Hat Just In Time For The Tweets Of The Week