News
A Tale Of Two Marriages: Beyoncé, Cardi And Why Women Can't Win
Just do you, sis.
When women stay with a man who cheats, they become the butt of many jokes.
When Beyoncé gave us Lemonade and Jay-Z's indiscretions were publicized, many wondered why she didn't divorce him. To this day, many Beyhivers see Jay-Z as dead weight trailing behind their queen.
In a scathing editorial, Babe writer Ari Bines called Bey weak and deemed the self-love bangers "Me, Myself and I" and "Irreplaceable" bulls**t anthems.
Like what you're reading?
Get more in your inbox.
"Homegirl said 'to the left, to the left' but b***h, I still see Jay right next to you on your Instagram feed," Bines wrote. "Beyoncé iconic 'Irreplaceable' inspired millions of women who found themselves in dead-end relationships to learn self-respect and kick unfaithful pussy-eaters to the curb. But Bey isn't one to practice what she preaches, clearly."
A more recent example is Kimbella Vanderhee, the long-time girlfriend of rapper Juelz Santana. Santana proposed to Vanderhee in November and what was supposed to be a happy moment became fodder for Black Twitter. Santana was accused of proposing to his lady because he was facing jail time and wanted someone to wait for him on the other side. It got so bad, the Dipset member had to personally defend his fiancée against social media naysayers.
"N***a you gave her that ring because you bout to go to jail for 2 years," one wrote.
"If someone can take ya lady, a ring ain't gonna stop nothing. U just gonna b out of a ring n a lady... stay blessed tho," Santana responded. He was sentenced to 27 months in prison on Wednesday and the relationship appears to be solid.
The crap Beyoncé, Kimbella and other women get for staying with their men would lead a rational person to believe women who leave are praised.
Well, Cardi B and Ciara would probably beg to differ.
Cardi B has been in the middle of a media fiasco since she announced her separation from her frequently unfaithful husband Offset. While Bardi gang cheered, several men, including other serial adulterers, and even some women have been pressuring the "Be Careful" rapper to take him back. When Offset crashed her Rolling Loud fest performance, with the help of her team, some thought it was a display of love. Cardi has been criticized for sticking to her guns. Even people I know personally have chided me for thinking Offset is a master manipulator.
Before Cardi, there was Ciara. When Ciara got with fertile Future, many of us groaned and hoped it would be over soon. An engagement ring and baby later, they were done and, eventually, Ciara moved on to current husband Russell Wilson. From the outside looking in, Wilson is everything Future was unwilling to be. He is faithful, an attentive husband and a loving father to their daughter and little Future, despite not being his biological father. The best part? Ciara is clearly happy.
But some people don't think Ciara deserves to be happy because she used to date and procreated with the "Mask Off" rapper. If I could throw a stone through the internet, it would hit 10 men who believe Ciara shouldn't have been able to move from the so-called bad guy to her quarterback hubby.
Watching these relationships and others play out in the media have taught me one thing: women can't win. When we stay with a no-good ass n***a, we're chided for being stupid and putting up with their bulls**t. When we leave, we're considered damaged goods and undeserving of love. In the eyes of patriarchy, women aren't supposed to win, especially if they're Black.
We're supposed to be down with our men for whatever. Black women are expected to ride or die. Dassit.
As we look forward to 2019, Black women should be empowered to stand by their choices. If you want to stay and work it out with your boo, that's on you.
If you want to get the hell on, get to steppin' sis.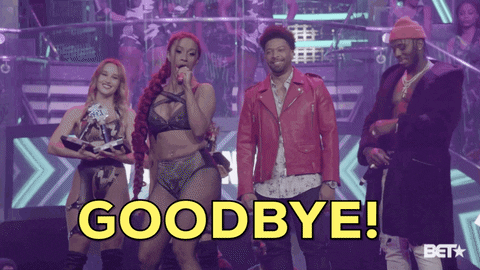 The choice is yours.
Blavitize your inbox! Join our daily newsletter for fresh stories and breaking news.
Now, check these out:
---
Sponsored Content
8 Tools You Should Use To Help Achieve Your Personal Goals