Aretha Franklin has given a new meaning to going out in style. Not only did the Queen of Soul don different outfits for separate viewings, but her funeral service will also be as iconic as her life. The cherry on top of a week-long celebration of Franklin's life, her funeral is scheduled to begin at 10 a.m. ET at the Greater Grace Temple in Detroit, Michigan.
Pink Cadillacs reportedly lined the streets in tribute to the queen. Organized by Crisette Ellis, first lady of Greater Grace Temple, it is a tribute to Franklin's 1985 hit "Freeway of Love," the song that won Franklin her 12th Grammy.
"We goin' ridin' on the freeway of love in my pink Cadillac," Franklin sang.
The sea of Pink Caddies welcomed Ms. Franklin as her body was brought to the church this morning.
The six-hour service, which can be livestreamed, will be filled with performances and speeches from celebrities including Tyler Perry, Bishop T.D. Jakes, Smokey Robinson, Bill Clinton, Cicely Tyson and more. The Detroit Free Press released a copy of the program, and, as expected, it doesn't disappoint. Not scheduled to conclude until 3 p.m., it's best that you sit back and get comfortable for this homegoing service.
Truly a farewell fit for a queen!
You can take a look at the full program here.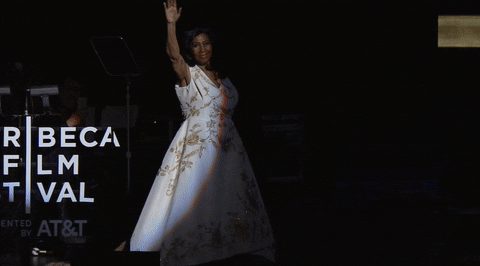 Now, check these out:
'Respect' With A Sprinkle Of Shade: Fantasia Shares Her First Hysterical, Yet Humbling, Encounter With Aretha Franklin
Aretha Franklin Left Behind No Will Or Trust For Her $80 Million Estate