Barack Obama Endorses 81 Democrats Running In The 2018 Midterm Elections
We see some familiar names, like Stacey Abrams!
August 01, 2018 at 5:37 pm
The midterm moment folks have been waiting for is here: former President Barack Obama has officially endorsed a full slate of candidates running in the midterm elections.
Our first black POTUS has kept a relatively low political profile since leaving the White House, but now he's stepping back into the spotlight.
According to The Daily Beast, Obama selected 81 candidates to give his full support. Among those chosen to receive his blessing include candidates running for both state offices and Congressional seats in California, Illinois, Georgia, Pennsylvania, Texas, Ohio, New York, New Jersey, New Mexico, Nevada and more.
Today I'm proud to endorse such a wide and impressive array of Democratic candidates – leaders as diverse, patriotic, and big-hearted as the America they're running to represent: pic.twitter.com/gWzalQhFas

— Barack Obama (@BarackObama) August 1, 2018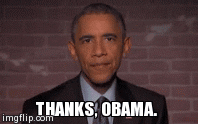 I'm confident that, together, they'll strengthen this country we love by restoring opportunity, repairing our alliances and standing in the world, and upholding our fundamental commitment to justice, fairness, responsibility, and the rule of law. But first, they need our votes.

— Barack Obama (@BarackObama) August 1, 2018
One particularly notable name on the list is Georgia governor hopeful Stacey Abrams, who made history to become the first black woman to win a major party nomination for governor. Her win would make her the first black female governor in history.
Notably absent is New York's rising Democratic star Alexandria Ocasio-Cortez.
According to Politico, Obama's office confirmed he will begin to campaign in several states this fall and will announce his second round of endorsements prior to the November midterm election.
Now, check these out:
9 Things To Know About Stacey Abrams, The Woman Who May Become America's First Black Female Governor
State Senator Checks White Privilege Of Her Conservative Co-Panelist Who Called Racism A 'Midterm Pitch'
Barack Obama Encourages Kenyans To Overcome Ethnic Divisions In Fourth Visit To The Country