Our favorite power couple is back in the limelight and blacker than ever.
While Beyoncé & JAY-Z stans descended upon Washington D.C. for one of many stops on the On The Run II tour, they got an unexpected surprise when they saw former President Barack Obama and former First Lady Michelle Obama dancing among them.
HuffPost reports the forever first couple was at the second of two stops of the tour at FedEx Field in Landover, Maryland. In a box above the crowd of attendees, you can see, in video captured by the Bey Legion, the two dancing to Hov's 2011 hit " N***as in Paris."
.@BarackObama & @MichelleObama attending Beyoncé & JAY-Z's show in Washington, D.C. tonight. #OTRII #Round2https://t.co/m47AMvyWCv pic.twitter.com/5a0Wc5twJh

— BEYONCÉ LEGION (@BeyLegion) July 29, 2018
Fans of the Obamas should know they are huge Queen Bey and Hov stans. Michelle and Miss Tina Knowles-Lawson were both on hand at the Paris stop of the On The Run II tour, around the same time France claimed victory in the World Cup.
Didn't make the US look a fool in global policy, both him and his wife raised smart, eloquent children instead of "BeBe" kids 😂😂, built careers before starting a family building a foundation with education AND THEY CAN JAM OUT TO JAY & B LIKE REGULAR PEOPLE? This is TOO MUCH.😦 pic.twitter.com/VDK1FWeIxN

— Michael Archer (@DrivenByABeat4) July 29, 2018
Look at my President and First Lady! pic.twitter.com/i3aBYeYLtY

— travis. (@travisnewyork97) July 29, 2018
Michelle was bopping. A First Lady with rhythm!!!!

— Anpanwoman (@khaleesidiane) July 29, 2018
DONNY COULD NEVER!!!

— Ayanna 🌻 (@Ayannaxo__) July 29, 2018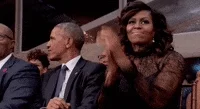 Liking this content? Check these out:
JAY-Z And Beyoncé Are Now Allowing Fans To Register To Vote While On The Run With Them
Icon Tings: Beyoncé Did A Literal Mic Drop And Twitter Couldn't Take It
Jay-Z Puts Philly Mayor On Blast For Evicting 'Made In America' From 'The Heart Of The City