Trending
Obamas Spotted Boppin' To 'N***as In Paris' At Beyoncé And Jay-Z Concert
Our president and first lady are living their best life.
Photo Credit: Photo: Twitter
Our favorite power couple is back in the limelight and blacker than ever.
While Beyoncé & JAY-Z stans descended upon Washington D.C. for one of many stops on the On The Run II tour, they got an unexpected surprise when they saw former President Barack Obama and former First Lady Michelle Obama dancing among them.
HuffPost reports the forever first couple was at the second of two stops of the tour at FedEx Field in Landover, Maryland. In a box above the crowd of attendees, you can see, in video captured by the Bey Legion, the two dancing to Hov's 2011 hit " N***as in Paris."
Like what you're reading?
Get more in your inbox.
Didn't make the US look a fool in global policy, both him and his wife raised smart, eloquent children instead of "BeBe" kids 😂😂, built careers before starting a family building a foundation with education AND THEY CAN JAM OUT TO JAY & B LIKE REGULAR PEOPLE? This is TOO MUCH.😦 pic.twitter.com/VDK1FWeIxN

— Michael Archer (@DrivenByABeat4) July 29, 2018'
Michelle was bopping. A First Lady with rhythm!!!!

— Anpanwoman (@khaleesidiane) July 29, 2018'
DONNY COULD NEVER!!!

— Ayanna 🌻 (@Ayannaxo__) July 29, 2018'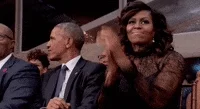 Jay-Z Puts Philly Mayor On Blast For Evicting 'Made In America' From 'The Heart Of The City
---
Sponsored Content
7 Ways To Execute Your Dreams