Kobe Bryant's Daughter Has The Best Response To Fans Who Ask Him When He's Having A Boy
"I got this," his daughter says. "You don't need a boy."
October 24, 2018 at 9:03 pm
Kobe Bryant pretty much lives in a matriarchy, and the former NBA star chatted about his three daughters, 15-year-old Natalia, 12-year-old Gianna and almost 2-year-old Bianka on Jimmy Kimmel Live, according to Complex.
Kobe mentioned how fans routinely pressure him to have a boy, but his eldest daughter had the best response to what could be considered a misogynistic mentality.
"The best thing that happens is we'll go out, and fans will come up to me and she'll be standing next to me," Bryant explained. "And they'll be like 'Hey, you gotta have a boy. You and [wife Vanessa] gotta have a boy to carry on tradition, the legacy.' And [Natalia] is like 'Oye, I got this. You don't need a boy for that, I got this.' I'm like, 'That's right, you got this.'"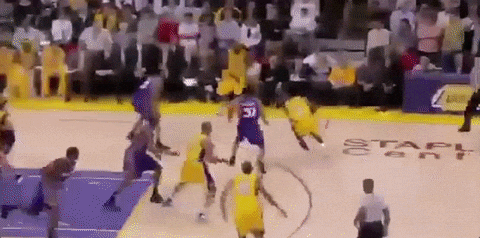 Speaking of carrying on tradition, Natalia is very interested in playing in the WNBA one day.
Naturally, Kimmel had to bring up the Los Angeles Lakers' disappointing record so far, which sees them 0-3 this season. The host suggested the team might do a little better if the retired player returned to the game.
"How many games in a row do the Lakers have to lose for you to unretire?" asked Kimmel.
Bryant laughed, and joked, "If they go 0-5 I'll think about."
Check out the clip from the interview below:
Liking this content? Check these out:
Kobe Bryant Makes History As The First Black Person To Win An Oscar For Best Animated Short
Kobe Bryant Says If He Were Playing In The NBA Today, He Would #TakeAKnee During The National Anthem
Kobe Bryant spends retirement launching $100 million venture capital fund